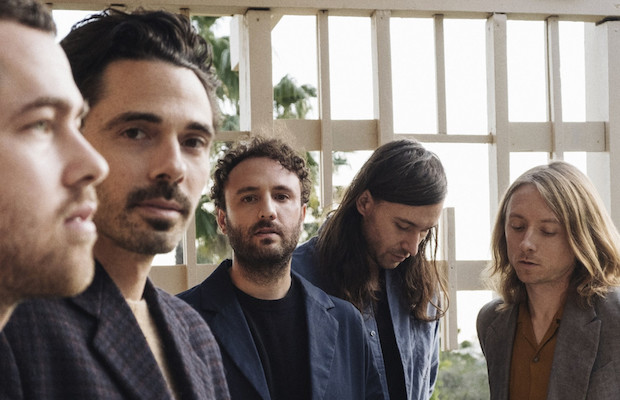 While a regular fixture in Nashville over the years, playing everywhere from The Basement to The Muse in their earliest days, before swiftly upgrading to spaces like Cannery Ballroom, The Ryman, and even Live on the Green, LA indie rock outfit Local Natives are set to make their return to Music City after a three year absence, out in support of new fourth album Violet Street, Sept. 14 at Marathon Music Works with buzzy San Diego surfpunk group The Gloomies. A definite must-see for any fan of cool, complex, and earnest indie rock, tickets are available right here while they last! We're excited to announce that we're also giving away a pair of tickets to one lucky fan, so if you'd rather leave it to chance, read on for more about the show and enter for a chance to win below.
LOCAL NATIVES
Formed in Orange County, CA by high school friends Taylor Rice (vocals/guitar), Kelcey Ayer (keyboards/vocals), and Ryan Hahn (guitar/vocals), indie rockers Local Natives really came together after college, when the trio recruited drummer Matt Frazier (current bassist Nik Ewing would join a couple years later) and all moved into a house together in the artsy Silverlake neighborhood of Los Angeles. A highly-collaborative affair, Local Natives' style and aesthetic was forged from that early time spent living and writing together, culminating in their breakout, widely praised debut full-length, Gorilla Manor, released in 2009 in the U.K. and early 2010 stateside, immediately making them an indie staple thanks to tunes like "Wide Eyes" and "Airplanes," drumming up comparisons to icons of last decade's indie boom like Arcade Fire, Fleet Foxes, and Vampire Weekend. Over the last decade, the LA group have proven to be adept musical chameleons, crafting a new LP once every three years, each a notable reflection both of the quintets' personal growth and experience, as well as a sonic shift that feels in line with the ever-changing indie rock scene. Propelled by widespread early buzz and following international touring and regular festival appearances, the band flexed their range with a darker, more atmospheric sophomore effort in 2013's fan-favorite Hummingbird, earning even more recognition in the subsequent years, before adopting a more upbeat, synth-soaked direction with 2016's Sunlit Youth. While, over the last decade, the indie scene as a whole has lost some of its mainstream buzz, and many similar acts of the late '00s have faded away, Local Natives have proven a persistent fan-favorite, and, more importantly, have continued to craft lush, earnest, excellent music that feels perpetually relevant, re-emerging with their most mature, layered, and career-representative work yet in this year's fourth full-length Violet Street. Returning to town for the first time in nearly three years, we're as excited as ever to catch one of modern indie rock's best and most dependable acts!
THE GLOOMIES
Formed in 2015 by frontman Andy Craig, formerly of buzzy psych-pop group Guards and, later, indie group Sacco, and drummer and Sacco bandmate Chris Trombley, who had both left their long-time base of New York to return to their native California, The Gloomies play a sort of synth-soaked, introspective, jazzy surf-pop, springing onto the scene with early tune "LSD." Fueled by online buzz, the band began to tour regularly, before releasing their debut EP, Blackout, in 2016, later returning to New York to work with friend and producer John the Baptist to craft their excellent, melancholic, and entrancing debut full-length, last year's Romance. Like Local Natives, The Gloomies are a complex, layered, and emotionally resonant band rooted in indie rock, but not sonically confided to any one style, and already racking up critical accolades, they're an act who should definitely be on your radar if they're not already. Don't miss their opening set!
_
ENTER TO WIN TICKETS
Enter to win tickets by filling out the form below. If you experience any trouble with the contest widget, or have any questions, feel free to email us at [email protected]rnewnashville.com.
Winner will be announced Thursday, Sept. 12 at 5 p.m. CDT, and will receive one pair of tickets. Good luck!
[contesthopper contest="97970″]
_
Local Natives and The Gloomies will perform Saturday, Sept. 14 at Marathon Music Works. The show is all ages, begins at 8 p.m. (doors at 6:30 p.m.), and tickets are available to purchase for $28.