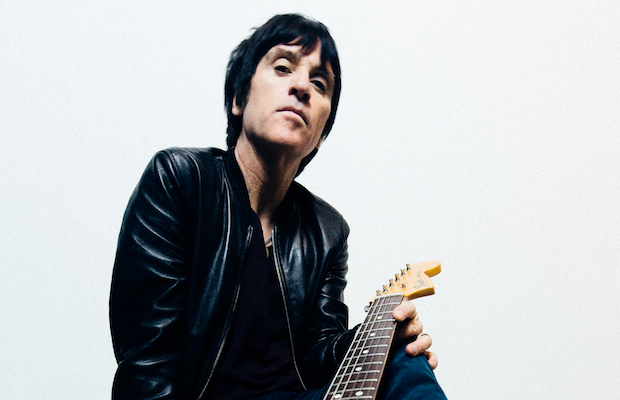 Legendary Smiths guitarist (and subsequent member of Modest Mouse, The Cribs, The The, and so many other projects) Johnny Marr has, after decades of various musical endeavors, been devoting his focus to a solo career since breaking out with 2013's excellent The Messenger, which he followed up with 2014's Playland and this year's Call the Comet, his best album yet. Renowned not only for his songwriting and production work, or even for the influence of his various bands, Marr is also celebrated as one of the best and most important guitar players of his generation, something he certainly still showcases today, in addition to impressive solo songwriting chops. In support of his latest, Johnny is set to return to Music City for only the second time ever, and first in five years, Sept. 15 at Cannery Ballroom with Canadian indie pop group Belle Game. Though an obviously must-see show for Smiths devotees, those who could care less about Marr's past endeavors but enjoy smart, well-crafted indie rock might find something to love here too (but really, Smiths fans, he's been playing hits Morrissey hasn't touched in years, and with just as much gusto). Tickets are still available here, but we're also giving away a pair of tickets to one lucky fan! Read on for more about the show, and enter for a chance to win below.
JOHNNY MARR
Best known as guitarist and co-songwriter for seminal '80s English rock group The Smiths (which, incredibly, existed only five years, and disbanded before he turned 25), Johnny Marr's path to a solo career has been much slower and less deliberate than his former bandmate Morrissey's (who's been a celebrated and successful solo singer since almost immediately after The Smiths' end). For many decades, Marr split his time as a band member and session performer, officially joining or forming groups like the Pretenders, The The, Electronic, 7 Worlds Collide, and, more recently, Modest Mouse and The Cribs, and working with the likes of Talking Heads, Billy Bragg, Pet Shop Boys, and many others. He first dipped his toes into being a frontman in 2003 with a project called Johnny Marr + The Healers, releasing just one LP, Boomslang, before another decade spent playing in bands. However, by 2013, Marr once again had decided to try his hand at a solo career, releasing his proper debut, The Messenger, to critical acclaim, and following it up just one year later with Playland. Though he's continued to be a collaborator and producer, notably working with composer Hans Zimmer increasingly in recent years, Johnny seems to have taken to being front and center as well, honing an indie, alternative, and pop accessible sound that should certainly appeal to fans of his Smiths heyday, but definitely feels distinctly Johnny and the product of many decades of working with all manors of talented collaborators and maturing his sound along the way. With his latest, this year's Call the Comet, Marr has crafted easily his best, most thoughtful, and most focused solo effort to date, and we couldn't be more excited to hear him play it (and, inevitably, a few Smiths favorites) at his second Nashville show ever, and first in five years.
BELLE GAME
Formed almost a decade ago in Vancouver, ethereal, dark indie pop group the Belle Game found swift early buzz thanks to a strong couple of EPs and increasingly high-profile live dates, breaking out to broader acclaim with their 2013 full-length debut, Ritual Tradition Habit. Beloved by blogs and tastemaking music outlets, and steadily becoming a festival favorite, the group worked with Broken Social Scene's Kevin Drew on last year's followup, Fear/Nothing, honing their dense, earnest, and pop-laden with even more focus. A cool group to support Johnny Marr, especially because they don't sound particularly similar, whether you're familiar with their music or not, you'll definitely want to make a point to show up early!
_
ENTER TO WIN TICKETS
Enter to win tickets by filling out the form below. Must be 18+ to attend. If you experience any trouble with the contest widget, or have any questions, feel free to email us at [email protected].
Winner will be announced Wednesday, Sept. 12 at 6 p.m. CDT, and will receive one pair of tickets. Good luck!
[contesthopper contest="94498″]
_
Johnny Marr and Belle Game will perform Saturday, Sept. 15 at Cannery Ballroom. The show is 18+, begins at 8 p.m. (doors at 7 p.m.), and tickets are available to purchase for $30-35.