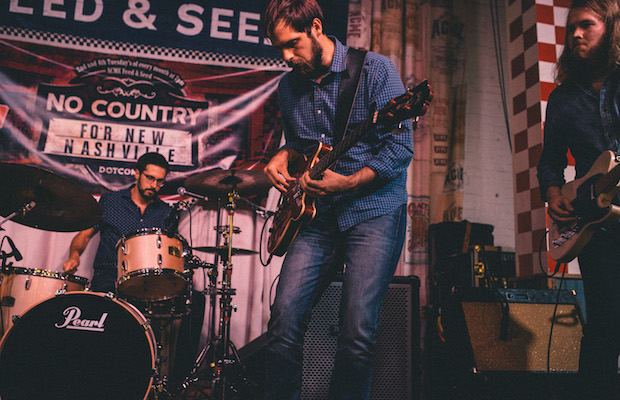 The Prescriptions, Eagle Johnson & Clean Machine
Acme Feed & Seed; Nashville, TN
July 11, 2017

Review by Jacob Ryan (@GonzoWithGusto). Photos by Nolan Knight.
Our long-running, free, bi-monthly Acme Feed & Seed showcase series was really cookin' recently, thanks to Americana rockers The Prescriptions, and, in the middle time slot, garage alt rock trio Eagle Johnson & Clean Machine, along with a kickoff DJ set care of Acme Radio. Read on for a full recap of all the action, and check out some great shots from contributing photographer Nolan Knight.
While I throughly enjoy our Tuesday night showcases at Acme, because we always book a wide variety of talents, from all different genres, it's impossible to not to admit taste in music is subjective. With this is mind, I must say I was a little extra excited on July 11 to catch two bands who were very much my cup of tea. When I was doing a little listening ahead of time to get acquainted with the two groups, I found I was especially into both, which is always an added bonus when you're writing about a show.

Eagle Johnson& Clean Machine. Photo by Nolan Knight.
Right out of the gate, Eagle Johnson and his backing players, Clean Machine, were hitting the power garage rock sweet spot. The first song was loud, hard, and fast, before dialing it back just a hair on the second tune, "Killer," which I recognized their release Tennessee Beach. Only a trio, Johnson had signing and guitar playing responsibilities, and he does not disappoint on either front. Shred quality guitar work, and easy to like songs, which are well-written and infectiously sung; the track "Mexico" had a mellow, Kings of Leon vibe, and later they slipped into more pure '90s grunge. There's a element of The Growlers' Brooks Nielsen to his voice, although Johnson sings an octave or two higher. A little later on, he played my favorite song, from his aforementioned record, "Push Pin Jane," which has Lightning 100 written all of over. All in all, I was already a fan of the band's work before I came, and I left that night not just a fan, but an advocator. Go see Eagle Johnson & Clean Machine any chance you get!

The Prescriptions. Photo by Nolan Knight.

Next up, were a another very talented local band, The Prescriptions, who shot off the starting line as well. I find whenever the first band at our Acme showcase really crushes it (as Eagle had), the second band always seems to match or attempt to surpass the same level of energy. The first song for The 'Scripts was a spirited harmonica led number, that was reminiscent of Heartbreaker era of Ryan Adams, and by the next track the depth of sound, thanks to being a five member collective, was really starting to be felt. The lap steel guitar playing especially caught my attention throughout. They also weren't afraid to strip it down, with Hays Ragsdale going solo with his guitar for a song. With the quiet chatter of the crowd as his accompaniment, his words were just as captivating, as when he sang with the full band. After that, they kicked it up several levels with "My Stranger," which was probably my favorite song of all the ones I've heard. The rest of their set was powerful and loud; happy builds that led to a mighty crescendos, with some stupendous improvised jams mixed in for good measure. Thanks to both ensembles, it was easily my favorite Acme gig of the year to date!
Check out a full set of photos below, and be sure to stay tuned for information on our next Acme showcase!