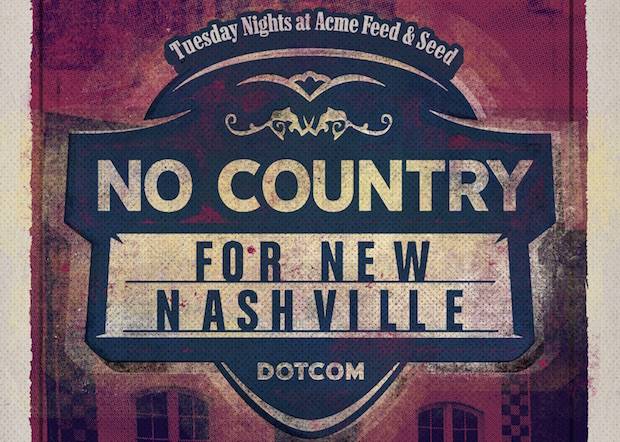 The summer of 2017 is in full swing, as we hit the halfway mark of the summer festival season, and our long-running showcase series at Acme Feed & Seed is still going strong. We're officially settled into our new format that includes rotating DJ sets ahead of our usually two-band bills. Our next gig will take place Tuesday, July 11 and the all local bill will feature alternative indie rockers The Prescriptions and environmentalist minded rockers Eagle Johnson & Clean Machine, plus a DJ set when things kick off at 7 p.m. Read on for a full preview, and we hope to see you at the show!
THE PRESCRIPTIONS
Originally hailing from Birmingham, AL, Hays Ragsdale of The Prescriptions always thought the songs that came to him so easily growing up where just a an idle hobby best kept to himself. Despite these inclinations, he caught enough of a musical itch to move to Nashville in 2014, and, after some positive feedback from new friends, decided he might have a future creating music. As the idea for a band was forming, Ragsdale turned to a longtime hometown friend, and fellow Music City transplant, Parker McAnnally to play bass. McAnnally soon suggested they reach out to guitarist Jack Thomason and Thomason's friend from college, Texas-raised drummer John Wood and just like that, another Nashville indie rock origin story was written. An impressive EP, Either Side, soon followed, and a full-length is already in the works. Their ambitious, sometimes stream of consciousness lyrics bring to mind Southern rock storytellers of yesteryear, backed by expressive and eclectic arrangements, which touch on influences ranging from The Strokes to Wilco. Considering how relatively new they are to our ever expanding local rock scene, we couldn't be more excited to get a full taste of what they're all about live. Don't miss your chance to do exactly the same, for free!
EAGLE JOHNSON & CLEAN MACHINE
Choosing to use their platform of music to not just entertain people with Americana flavored rock and roll, but to send a clear activist message, locals Eagle Johnson & Clean Machine have formed a mission statement. Via their FB page, that mission statement is paraphrased as follows: "through music we are cleaning up the machine. Our voice is the voice of the environment … we believe cleaning the environment through commerce is the cash crop of our future." With such a simple, but powerful driving force behind everything they do,  EJ & Clean Machine have begun to implement their vision, by generate buzz all over the city, thanks to a series of single releases. No doubt a record is in the works, but you only have to wait a week to see what their all about for yourself in person. Get to Acme on time to hear their message, and to enjoy their tunes.    
The Prescriptions and Eagle Johnson & Clean Machine will perform Tuesday, July 11 at Acme Feed & Seed. The show is 21+, begins at 7 p.m., and, per usual, it's totally FREE!