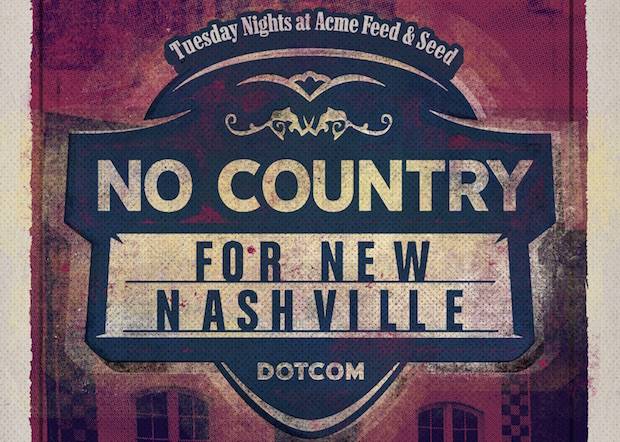 We are powering into Spring with the 2017 season of our long-running showcase series at Acme Feed & Seed, settling into a new format that includes rotating DJ sets ahead of largely two-band bills going forward. Our next show will take place Tuesday, March 14 with funk/soul ensemble The Broomestix in the headlining spot, along with pop folkster Chris Ayer, plus Acme Radio holding down the DJ booth when things kick things off at our usual time of 7 p.m. Read on for a full preview, and we hope to see you at the show.
THE BROOMESTIX
Sporting an eleven member roster, locals The Broomestix tend to make every gig an all-out production, and, as far we're concerned, the more the merrier! Featuring trumpet, trombone, alto sax, tenor sax, bari sax, plus keys, two guitars, bass, and drums, there isn't much this collective can't crank out (r&b, rock, pop), but they tend to keep things as funky as possible within the realm of soul. Fronted by the truly marvelous Madi Patin, whose standout vocals captivate audiences, melding with a wonderful mix of players, the group seem to have natural chemistry that cannot be taught. People all over have raved about the The Broomestix' incredible energy at their live shows, and their perceived experience, despite most of them being under legal drinking age. Their record, Running from the Law, should be a staple in your listening rotation (if it isn't already), but it's a few years old now, and with some lineup changes, new material is sure to be showcased. Once you see them live for yourself, you'll understand why we're so high on the up-and-comers, and, more importantly, you'll be glad we booked them at Acme for a coverless show.
CHRIS AYER
Born in California, raised in Virginia, and honed in New York, folky pop rock performer Chris Ayer claims LA as his home base these days, but based oh his heavy, heavy touring schedule, we'd say he is more one with the road. There is a fervent edge to his beautifully crafted songs, which harbor a soulful, classical, and poetic style, while still maintaining radio ready pop hooks to reel in the listener. After largely getting into music in college, Chris has been churning out great records for over a decade, mostly self-releasing and remaining fiercely independent, though he did ink an international record deal with Sony ahead of his latest, The Noise, and has toured Europe extensively over the years. With a solid buzz, and well-honed live show, and an admirable hustle, Chris seems poised to reach higher, work harder, and burn brighter in 2017. Catch him in the friendly confines of Acme Feed & Seed for free now, before he's playing bigger rooms for higher covers.
The Broomestix and Chris Ayer will perform Tuesday, March 14 at Acme Feed & Seed with a DJ set from Acme Radio.  The show is 21+, begins at 7 p.m., and, per usual, it's totally FREE!