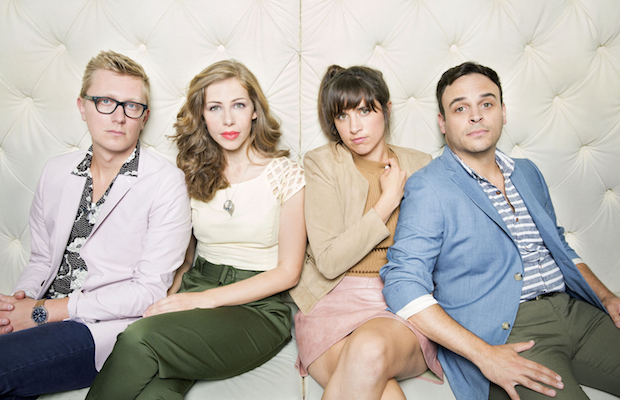 Talented multi-genre quartet Lake Street Dive made waves with their groovy new record, Side Pony, earlier this year. The 1960s inspired record was recorded here in Nashville and produced by Dave Cobb, so it's only fitting that they head back to its birthplace for an epic headlining show. The band will play The Ryman Auditorium on Sept. 15, along with Brooklyn alt-pop favorites Rubblebucket. You can still snag a ticket for $32.50, but we're also giving you the chance to win a pair of tickets on us! Read on for more info on the show and your chance to win.
LAKE STREET DIVE
Comprised of vocalist Rachael Price, drummer Mike Calabrese, bassist Bridget Kearney, and trumpeter and guitarist Mike "McDuck" Olson, Lake Street Dive has been making infectious and inspired music for over a decade. The foursome met while attending Boston's New England Conservatory, and surprisingly started the project as a somewhat jazz-inspired experimental type of country band. During this time, Kearney submitted an original song by the band to the John Lennon Songwriting Contest, which subsequently won in the Jazz category. Their prize money helped them record their debut album, in this episode…, which they independently released in 2006. Over the next few years, the group continued to make music while juggling side projects and day jobs.
Things finally came together in 2011, and the newly-focused group found more widespread success with their self-titled LP. Their unique blend of classic jazz and fresh indie pop began attracting the masses, and led them to a heavy touring schedule for the next few years. In 2014, they released Bad Self Portraits, which featured a more finely-tuned sound that appealed to eager college students and traditional jazz lovers alike. It didn't take long for the band to head back into the studio with something new in mind.
Earlier this year, the group released their fifth studio album, Side Pony. Produced by the much-beloved Dave Cobb, the record hones in on a more vintage, soul-inspired sound. Although its an obvious homage to classic 1960s Motown and soul, it's much more than a tribute piece. Cobb keeps everything feeling modern and evolved, while still tipping a hat to days gone by. Right now is the perfect time to catch Lake Street Dive and experience their funk and flair on the live stage.
RUBBLEBUCKET
If you haven't been to a Rubblebucket show, you haven't seen a real dance party. The Brooklyn-based group is known for their energetic live shows, which are driven by their upbeat reggae and psych-rock inspired jams. Over the last nine years, Annakalmia Traver, Alex Toth, Adam Dotson and Ian Hersey have developed a solid fan base who can't get enough of their unique sound. Although a lot has changed since their 2008 debut Rose's Dream, they've managed to keep the same youth and vibrancy through seven career releases. Their latest LP, 2014's Survival Sounds, was produced by John Congleton, who has worked with everyone from Marilyn Manson to Nelly Furtado. Partially inspired by the experience of supporting Traver as she fought ovarian cancer, it acts as an inspiring, emotional and wonderfully weird piece of art that is worth the praise it has collected. Make sure to get there early to experience the fiery, danceable greatness that is a Rubblebucket set.

_
ENTER TO WIN TICKETS
Enter to win tickets by filling out the form below. Must be 18+ to attend. After you have entered, there will be the option to share this contest via social media. For each person that you refer to the contest, you will receive an additional entry. If you experience any trouble with the contest widget, or have any questions, feel free to email us at [email protected].
Winner will be announced Tuesday, Sept. 13 at 12 p.m. CDT, and will receive one pair of tickets. Good luck!
[contesthopper contest="78402″]
_
Lake Street Dive and Rubblebucket will perform Thursday, Sept. 15 at The Ryman Auditorium. The show is 18+, begins at 7:30 p.m. (doors at 6:30 p.m.), and tickets are available to purchase for $32.50.