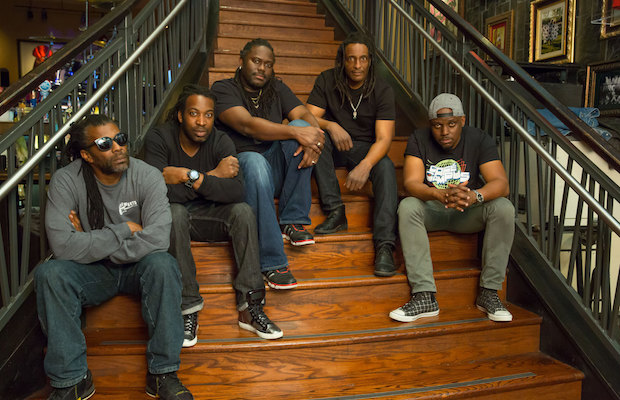 Big news for roots reggae aficionados and casual listeners alike. The Original Wailers will be stopping in on Music City Aug. 21 to perform at City Winery. Featuring living reggae legend, Al Anderson, TOW are a must see for fans of Bob Marley and The Wailers era reggae. Tickets to the all ages show are currently available for $25-$32, and you should probably act fast, because this one will likely fill up before showtime. However, if you're feeling lucky, you can enter for a chance to win a pair of tickets to the performance after the jump, and while you're here, read on for more information about the show.
THE ORIGINAL WAILERS
Back in 1974, after Bob Marley went solo, he asked a man named Al Anderson to be the lead guitarist in his reformed band, The Wailers. From this wonderful partnership, all-time classic roots, rock, reggae songs like "No Woman, No Cry", "Dem Belly Full" and "Curfew (Three O' Clock Road Block)" were born, and an entirely new demographic world wide took note of Bob and the music that was birthed in his native Jamaica. Since the death of Marley, Al Anderson has kept the flame of reggae alive.  Aside from his time working with artists like Peter Tosh, James Brown, Stevie Wonder, The Rolling Stones, and Ben Harper, he also tours and records as The Original Wailers, and together they're ready to share songs from their latest EP Miracle, as well as a heavy dose of classics originally written and performed with Mr. Marley. Be present, and spread the positivity at what promises to be the most important reggae show of the year in Nashville. One love!
ENTER TO WIN TICKETS
Enter to win tickets by filling out the form below. Must be 18+ to enter. After you have entered, there will be the option to share this contest via social media. For each person that you refer to the contest, you will receive an additional entry. If you experience any trouble with the contest widget, or have any questions, feel free to email us at [email protected].
Winner will be announced Thursday, Aug. 18, and will receive one pair of tickets. Good luck!
[contesthopper contest="77812″]
_
The Original Wailers will perform at City Winery on Sunday Aug. 21. The show is all ages, begins at 8 pm (doors at 6pm), and tickets are available to purchase for $25-$32.