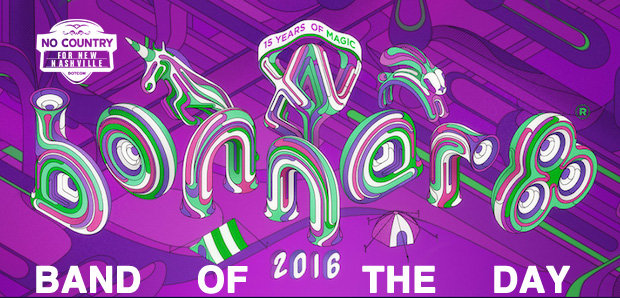 As we've been doing for the past several years now, we're making it our mission to help you get acquainted with as many bands as we can from Bonnaroo's impressive 2016 lineup.  We started from the bottom and have been working our way up, paying special attention to the smaller and lesser known acts on this year's bill with daily, dedicated Bonnaroo Band of the Day, Bonnaroo Club Stage Band of the Day, and even Bonnaroo Comedian of the Day posts. As we near the home stretch, we'll be finishing up the last 25 main stage performers in compilation-style roundups, since they're big names you're more likely to know. Keep reading for the fifth and final part of your Bonnaroo Main Stage Roundup…
PEARL JAM
Saturday | What Stage | 10:15 p.m.
Returning to Bonnaroo for the first time since their triumphant headlining debut in 2008, seminal Seattle alt rockers Pearl Jam are the top line name on this year's bill. And for good reason, as they, along with Nirvana, Alice in Chains, and Soundgarden are predominately responsible for shifting the entire music scene away from the hair metal, excess, and decadence of the '80s and towards the more raw, intimate, angsty, and alternative sounds that would shape the '90s, despite borrowing more from classic rock and punk than some of their more minimalist, alt-focused peers. Formed in 1990 after the fallout of  few prior projects, chiefly Green River, Pearl Jam benefitted from its members' collective experience and the intense, story-meets-personal driven concepts of singer Eddie Vedder, almost immediately inking a major label deal ahead of the release of their debut, Ten. Still their best known and most commercially successful album, the LP would go on to be certified 13x platinum, striking a chord with its heavy, raw, loud, intense, and anthemic songwriting, dealing with topics of depression, abuse, homelessness, and suicide. While it wouldn't exactly provide a blueprint for the subsequent 25 years of the group's career, Ten stands as a strikingly good debut, and stands as a seminal moment in rock history.
Pearl Jam have released nine more full-lengths since, most recently 2013's Lightning Bolt, and have dramatically broadened their sound, experimenting with folk, art rock, garage, world beat, and more, drifting away from their signature aesthetic as the scene it inspired got stale. Counter to the trajectory of most breakout acts, a series of admirable decisions throughout the '90s would somewhat slow their ascent; superficially, the group largely abstained form making videos after their first album, but, more significantly, they also waged war on the monopolistic practices of music media giant LiveNation, boycotting venues and ticketing services with exclusive contracts for many years, before eventually caving for the benefit of fans. Since then, the group have stayed increasingly involved in activism, and have always remained fan-focused, allowing recording of their shows, and even producing countless official live bootlegs in the early '00s. Considered one of history's greatest rock bands, Pearl Jam's live show has always been their chief selling point, transforming their songs to new heights with energetic, intense, and expansive renditions of their beloved songs. We probably don't need to sell you on Bonnaroo's top headliner, but if you haven't seen Pearl Jam in concert, fan or not, you absolutely can't miss this. [PO]
LISTEN | "Sirens"
WATCH | "Jeremy" (Official Video)
CONNECT | Site | Facebook | Twitter | Spotify
_
DEAD & COMPANY
Sunday | What Stage | 8 p.m.
Since the late 1960s, the Grateful Dead has been the pinnacle of the jam scene.  They are infamous for their lengthy improvised sets, and notorious for their dedicated fan base of "Dead Heads" who spent their lives on the road following the band.  Since the death of Jerry Garcia in 1995, the surviving members have been performing in other projects including The Other Ones, The Dead, and Further.  Now, reunited as the Dead & Company, they aim to keep the magic of the music alive for the younger generation.  The current configuration includes original Grateful Dead members percussionist Mickey Hart, drummer Bill Kreutzmann, and guitarist Bob Weir, but brings in John Mayer to helm the lead guitar duties along with long time Allman Brothers bassist Oteil Burbridge and highly acclaimed keyboardist Jeff Chimenti.
If you've never seen any of the previous variations of The Dead live, you don't know what you are missing.  You can expect the Dead & Company's four hour, two set spectacle to wrap up Roo 2016 to be nothing short of sonically spectacular.  The hippies will be in full force and the air will be teeming with THC as the band explores a massive back catalogue and sends us all a little further in our journey with the Dead. [MH]
LISTEN | "Ripple"
WATCH | "Scarlet Begonias" (Jimmy Kimmel Live)
CONNECT | Site | Facebook | Twitter | Spotify
_
LCD SOUNDSYSTEM
Friday | What Stage | 11 p.m.
When rumors broke late last year that LCD Soundsystem would be reuniting in 2016, it definitely came as something of a shock. Though dearly missed, and certainly beloved by millions, it felt like the seminal dance punks had just called it quits, playing what was purported to be their final show ever in the spring of 2011 at Madison Square Garden (the event was subsequently chronicled in a documentary, Shut Up and Play the Hits, and a live album, The Long Goodbye: LCD Soundsystem Live at Madison Square Garden). A couple months of speculation turned into revelation, when, shortly after the surprise release of a new track, "Christmas Will Break Your Heart," the band made their return official, announcing a headlining spot at Coachella (and, subsequently, countless other summer festivals), and the promise of a new album, something frontman James Murphy justified in a lengthy essay after mild outcry over such a quick return.
Formed in 2002 in New York, the band released an early barrage of singles which drummed up buzz within the dance community, before winning over critics and fans alike with their incredible, eponymous 2005 debut. A Grammy nomination and boosted presence would follow, and, with 2007's Sound of Silver, the group settled into an even more cohesive, eclectic, dance-infused, electronic sound, which earned high critical buzz and further commercial attention. By 2010's This Is Happening, LCD Soundsystem's best album, and arguably a modern classic, the band were superstars, heralded as the generation's premiere dance rock band of the indie world. Soon after their third LP, however, LCD abruptly decided to call it quits, the pressure of operating at such a large scale seemingly weighing on Murphy's artistic psyche. Sure, maybe they shouldn't have definitively announced their disbandment, especially since the music is effectively the product of one man, and it's easy for one person to change their mind, but, regardless of circumstance, we're just thrilled to have one of the best bands of the last decade back in action. [PO]
LISTEN | "Dance Yrself Clean"
WATCH | "Daft Punk Is Playing at My House" (Official Video)
CONNECT | Site | Facebook | Twitter | Spotify
_
J. COLE
Friday | What Stage | 8:45 p.m.
The top billed hip hop act of a respectable, but lighter than usual, hip hop slate at Bonnaroo, North Carolina raised rapper J. Cole is definitely more than equipped to hold it down at the fest. Born on an army base in Germany, but raised by his mother in Fayetteville, NC, J. (full name Jermaine) fell in love with hip hop at a young age, attracted to the art of storytelling. He was gifted a drum machine to begin turning his notebooks of rhymes into songs; though, despite posting self-released material online in his teens, Cole opted to attend college before pursing music full time, graduating magna cum laude from St. John's University in New York. As soon as his first and mixtape, The Come Up, dropped in 2007, the music world began buzzing about the talented MC, and, shortly after 2009's followup The Warmup, Cole had bagged a deal with Jay-Z's Roc Nation label, drummed up attention in the mainstream press, begun collaborating with big name artists like Jay, Miguel, Wale, Kendrick Lamar, and B.o.B, and quickly crafted another buzzed about mixtape, Friday Night Lights.
J. Cole's full-length debut, Cole World: The Sideline Story dropped in 2011, and in the five years and two additional LPs that have followed (most recently, 2014's 2014 Forest Hills Drive), he's become a certifiable mainstream success, landing Grammy nominations, the first rap album in 25 years to be certified platinum with no guests or features, tours with superstars like Rihanna and Drake, a forthcoming coming collaborative project with Kendrick Lamar, an HBO special, and more, all while supporting social causes, charitable foundations, and economic initiatives for underprivileged youth. Compared to greats like Nas, Tupac, and Eminem, J.'s strong and personal lyrical ability coupled with his fresh, contemporary (but not overtly trendy) production makes him a modern rapper with mass appeal, and a worthy addition to Bonnaroo. [PO]
LISTEN | "Crooked Smile" ft. TLC
WATCH | "Wet Dreamz" (Official Video)
CONNECT | Site | Facebook | Twitter | Spotify
_
ELLIE GOULDING
Saturday | Which Stage | 9:15 p.m.
Rising to fame with her 2010 debut Lights, British indie pop singer Ellie Goulding has, over the last few years, become one of the biggest names in pop music. Best known for tracks like "Love Me Like You Do," "Anything Can Happen," "Lights," and her cover of Elton John's "Your Song." Ellie's work has been featured in soundtracks for popular movies like Twilight, The Hunger Games, Divergent, and 50 Shades of Grey, and has dominated the radio, ranked highly on the charts, and earned the buzzy singer numerous awards nominations, including a Grammy nod. Drawn to music at a young age, Goulding gravitated towards electronic music in college, and was discovered by manager Jamie Lily-Lillywhite at talent show, leading to a deal with Polydor Records. As her stature has risen, Ellie has toured with mega acts like Taylor Swift, Katy Perry, and Bruno Mars, and has managed to find mass appeal across pop and electronic communities.
Blessed with an impressive range and an enchanting, powerful voice, Goulding's strong and earnest singing style is enhanced by moody, electronic, and even folk derived instrumentation, keeping her not only fiercely contemporary, but also fresh in sound and style. With three widely successful LPs (two of which were repacked and re-released with even more material), all of which soar in quality, Ellie Goulding seems firmly planted in the pop landscape for many years to come, and her appearance at Bonnaroo stands as one of our most-anticipated sets of the weekend. [PO]
LISTEN | "Love Me Like You Do"
WATCH | "Anything Could Happen" (Official Video)
CONNECT | Site | Facebook | Twitter | Spotify
_
[MH] Matt Hall
[PO] Philip Obenschain
More from Bonnaroo | Tickets | Lineup | Site | Facebook | Twitter