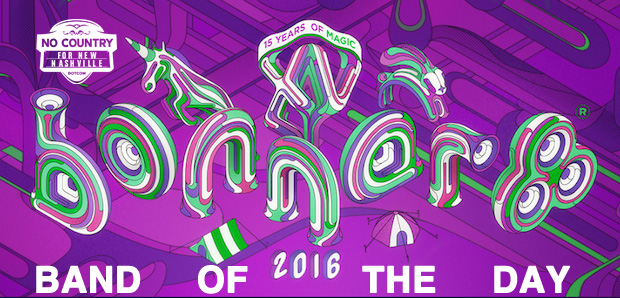 Bonnaroo Artist | Amasa Hines
Bonnaroo History | Newbie
Stage & Time | Saturday | Who Stage | 4:45 p.m.
As we've been doing for the past several years now, we're making it our mission to help you get acquainted with as many bands as we can from Bonnaroo's impressive 2016 lineup. In addition to the main stage acts, we also want to be sure to give the Club Stage bands some love, so, for the remainder of our coverage, we'll be doubling up with a second daily spotlight. They might be the smallest artists on Bonnaroo's bill, but the Club Stage boasts some of the best and most exciting up and coming acts around. As with our main stage previews, we'll start from the bottom and work our way up. Keep reading for your Bonnaroo Club Stage Band of the Day…
LEARN
Amasa Hines are a six piece genre-twisting band from Little Rock, Arkansas, whose beginnings date back to 2010 when brothers Judson and Josh Spillyards played a weekly gig with Ryan Hitt and Norman Williamson on saxophone. The improv heavy shows formed a deep musical bond between the members and soon after, Amasa Hines were established as a band ready to take on the wins and losses of the industry. After a Daytrotter session in 2012, the group began work on their 2014 debut album All The World There Is. With the hard work this band have put forth, they now find themselves ready to show Bonnaroo what they are made of.
The group's sound is truly eclectic, influenced by everyone from The Black Keys to Fela Kuti. On "Earth & Sky," they hit the listener with a robust and heavy blues riff with vocals that push the song in a powerful and fierce direction, but then take a track such as "El Hajj Malik El Shabazz," where the band are presenting an afro-beat groove that draws straight from the musical stylings of the Kuti family. Do yourselves a favor and catch this talented band on the rise this weekend. Who knows, maybe next year they'll be on one of the main stages!
LISTEN | "Earth & Sky"
WATCH | "Coltrane" (Audiotree Session)
CONNECT
More from Amasa Hines | Site | Facebook | Twitter | Spotify 
More from Bonnaroo | Tickets | Lineup | Site | Facebook | Twitter