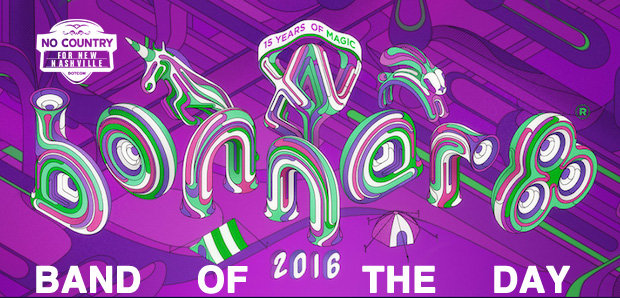 Bonnaroo Artist | Austin Plaine
Bonnaroo History | Newbie
Stage & Time | Sunday | Who Stage | 12:45 p.m.
As we've been doing for the past several years now, we're making it our mission to help you get acquainted with as many bands as we can from Bonnaroo's impressive 2016 lineup. In addition to the main stage acts, we also want to be sure to give the Club Stage bands some love, so, for the remainder of our coverage, we'll be doubling up with a second daily spotlight. They might be the smallest artists on Bonnaroo's bill, but the Club Stage boasts some of the best and most exciting up and coming acts around. As with our main stage previews, we'll start from the bottom and work our way up. Keep reading for your Bonnaroo Club Stage Band of the Day…
LEARN
Possibly the next in a long line of everyman guitar playing, folk/Americana poets, like Ryan Adams, Elliot Smith, and Bob Dylan, Austin Plaine isn't just another singer-songwriter. Showing polish and craft well beyond his years on his 2015 self-titled debut, Plaine's music draws you in immediately, and keeps you hooked as he spins yarns about what real life is like in America today. The Minneapolis-based artist spent time in Music City late in 2013, teaming up with WEVOLVE Music to start working on what was to became his debut record, thanks in part to a successful Noisetrade campaign. The record was released under NYC indie label Washington Square Music, and Austin has been creating buzz ever since.
His newest single off the LP, "Hard Days", is a Bruce Springsteen-esque song commenting on how tough life can be in America, and the world, today. The imagination and lyrics capture moments in the life of everyday Americans struggling, but still fighting while keeping their heads high. The shrinking of the middle class, some call the "new American struggle", is very really to millions of people, and this song beautifully incapacitates that national sentiment, much like protest songs of the 60s did for their time. So check out what the next wave of social commentary songwriting has to offer when Austin Plaine makes his Bonnaroo debut Sunday afternoon.
LISTEN | "Blinded By The Light" (Bruce Springsteen cover)
WATCH | "Hard Days" (Official Video)
CONNECT
More from Austin Plaine | Site | Facebook | Twitter | Spotify
More from Bonnaroo | Tickets | Lineup | Site | Facebook | Twitter