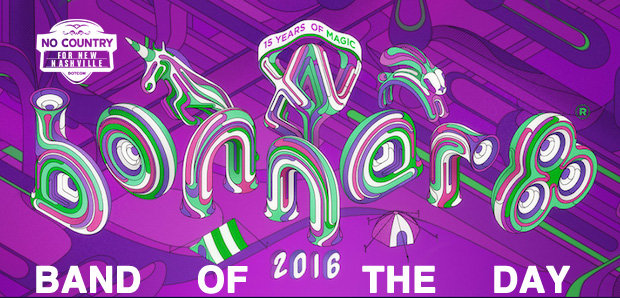 As we've been doing for the past several years now, we're making it our mission to help you get acquainted with as many bands as we can from Bonnaroo's impressive 2016 lineup.  We started from the bottom and have been working our way up, paying special attention to the smaller and lesser known acts on this year's bill with daily, dedicated Bonnaroo Band of the Day, Bonnaroo Club Stage Band of the Day, and even Bonnaroo Comedian of the Day posts. As we near the home stretch, we'll be finishing up the last 25 main stage performers in compilation-style roundups, since they're big names you're more likely to know. Keep reading for part one of your Bonnaroo Main Stage Roundup…
BAND OF HORSES
Saturday | What Stage | 6 p.m.
Anchored by singer/songwriter Ben Bridwell, acclaimed indie group Band of Horses first came together in Seattle in 2004, born out of the fallout of several other projects. Bridwell is the only member that still remains from those days, though the group's current lineup has at least been anchored since the release of their Grammy nominated third effort, Infinite Arms, in 2010. After early buzz and spots opening for popular acts like Iron & Wine brought the band to the attention to Sub Pop, they released their debut, Everything All the Time, through the label in 2006, eventually relocating to Bridewll's native South Carolina by the time they dropped their breakthrough second LP, Cease to Begin. Critical buzz, some minor commercial attention, and an ever-growing fanbase helped propel the rockers to new heights, and by the time of Infinite Arms, they'd nabbed a major label record deal and had graduated to mainstream breakout success.
It's been four years since Band of Horses last released a full-length, 2012's Mirage Rock, but, in the time since, they've been far from idle. Ben, now a father of four, managed to release a collaborative cover album with Iron & Wine's Sam Beam, and the band, still touring at a regular clip, released a live album recorded at Nashville's own Ryman Auditorium in 2014. After building a home studio and tapping into some prestigious collaborators, Bridwell and co. finally crafted their fifth full-length, Why Are You Ok, exploring a more expansive, retro base of influences, and are set to drop it during Bonnaroo, on June 10. A longtime festival favorite, Band of Horses' return to 'Roo should be nothing short of memorable. [PO]
LISTEN | "Casual Party"
WATCH | "No One's Gonna Love You" (Official Video)
CONNECT | Site | Facebook | Twitter | Spotify
_
LEON BRIDGES
Friday | The Other Tent | 8:15 p.m.
There is no doubt that the neo-soul movement is in full swing, and the torch bearer for the past year or so has been Leon Bridges.  The throwback gospel drenched singer-songwriter has been no stranger to Tennessee, performing two sold out shows at Marathon Music Works and The Ryman, respectively, as his stock continues to rise and his never ending tour cycle marches on.  So, of course, there was no surprise when he was announced to make his Bonnaroo debut this summer.
Bridges' uber viral single "Coming Home" has received tens of millions of streams as young fans are rediscovering the joyous feel of music from the '50s and '60s soul pop scene, and it all started when that same song caught the attention of Austin Jenkins and Joshua Block from White Denim at a performance in their home state of Texas.  Jenkins and Block took Bridges under their wing, helping him record his debut record of the same name, which was ultimately picked up and released by Columbia less than a year ago (June 23, 2015).  It's hard to believe this young star has been shining this bright for only a year, but once you catch his live performance at the Farm, it will all make sense. [MH]
LISTEN | "Coming Home"
WATCH | "Smooth Sailin'" (Live from SNL)
CONNECT | Site | Facebook | Twitter | Spotify
_
GRACE POTTER
Saturday | What Stage | 2 p.m.
Singer-songwriter and multi-instrumentalist Grace Potter is no stranger to the Bonnaroo stage, having already performed with her backing band The Nocturnals in 2006, 2009, and 2011.  What will be different about this appearance?  Potter struck out on her own with her release of her debut solo record, Midnight, in 2015, and will be performing as a solo artist at Bonnaroo this year.  She began touring her solo record last fall (you might remember our coverage of her at Ascend in October), and, if you are concerned this is going to be an intimate stripped down affair, you can think again.  Potter's new songs are pop tinged rock and roll, and her voice is the punch that is going to smack you silly with her powerful delivery.
If you aren't familiar with her new works or just haven't had a chance to get familiar, don't worry.  Potter and her band are sure to regale the Saturday afternoon sun drenched crowd with over a decade of dance along worthy tracks that span her catalogue as an artist.  If you are concerned that Potter isn't capable of captivating that afternoon crowd, think again.  We saw her performing in a nearly identical time slot in 2011, and she brought the house down.  If you want to see one of the most captivating front women in the current musical landscape, this is a must see set for you.  Head below to check out the banger, "Alive Tonight," from her solo debut, and then check out the title track from her 2012 release with the Nocturnals to get an idea of the energy of Grace live. [MH]
LISTEN | "Alive Tonight"
WATCH | "The Lion, The Beast, The Beat" (Official Video)
CONNECT | Site | Facebook | Twitter | Spotify
_
FATHER JOHN MISTY
Sunday | Which Stage | 5:15 p.m.
Formerly known for his brief stint as the drummer of Fleet Foxes (as well as time performing with Har Mar Superstar and countless other indie acts), Joshua Tillman began releasing solo efforts as J. Tillman a little over a decade ago, before he rebranded himself, sonically and stylistically, as Father John Misty beginning with with 2012's incredible, career-making Fear Fun. Raised in a religious household in the DC suburbs, Tillman attended college in New York before relocating to Seattle and really sinking his teeth into the indie scene of the Pacific Northwest, where years of collaborations and roles in other projects helped shape his sound and sensibilities, all the while working on some admirable solo music which, great as it was, all serves in retrospect as something a prologue to his fully realized persona as Father John Misty.
FJM returned with another dose of excellence, sophomore LP I Love You, Honeybear, last year, further pushing his sound with a sweeping exploration of indie rock and folk with psychedelic tendencies and gorgeous instrumentation. A true gem in the current indie landscape, Father John Misty is at once the prototype for modern day indie hipsterdom, as well as that scene's sarcastic voice of self-awareness, with smart-assery abounding in healthy doses, intertwined with top-notch releases and a breathtaking, well-balanced live show. [PO]
LISTEN | "Bored in the USA"
WATCH | "Hollywood Forever Cemetery Sings" (Official Video)
CONNECT | Site | Facebook | Twitter | Spotify
_
PURITY RING
Friday | The Other Tent | 12:30 a.m.
Formed in 2010 in Edmonton, Alberta by vocalist/lyricist Megan James and multi-instrumentlaist/visual artist Corin Roddick, synthpop/experimental duo Purity Ring were met by almost immediate critical acclaim, amassing an endless wave of hype long before they even released their 2012 debut, Shrines. Fortunately, the pair delivered, crafting one of the strongest, most unique, and coolest debut albums in recent memory, more than earning their self-proclaimed mantle of "future pop." Worldwide attention, tours, and festival outings, including an early appearance at Bonnaroo would follow, as would a series of unconventional covers and collaborations.
The band managed to largely evade the sophomore slump with their hypnotic, nuanced followup, Another Eternity, last year, released to critical acclaim and reinvigorating their broader attention. Layering elements of synthpop, dream pop, electronic, trip hop, and witch house, Purity Ring combine emotional, conceptual lyrics with melody-driven, soaring textures of sound, but their real strength lies in their unparalleled performance, where they augment visuals and lights, perform using homemade synth-triggering instruments, dawn custom-sewn attire, and find a perfect balance between recreating their albums while effectively allowing room to change up songs in real time. There's no one else quite like them, and their live show is unequaled; even outdoors at a fest, it's not quite like anything you've ever seen before. [PO]
LISTEN | "Lofticries"
WATCH | "Begin Again" (Official Video)
CONNECT | Site | Facebook | Twitter | Spotify
_
[MH] Matt Hall
[PO] Philip Obenschain

More from Bonnaroo | Tickets | Lineup | Site | Facebook | Twitter