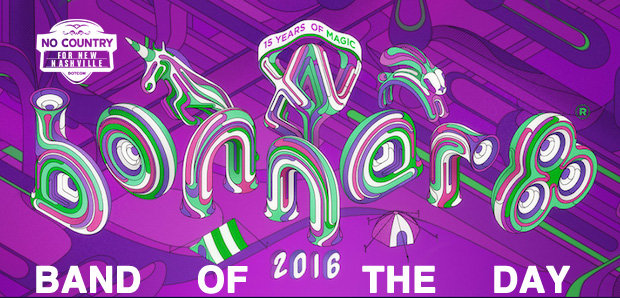 Bonnaroo Artist | The Claypool Lennon Delirium
Bonnaroo History | Newbie
Stage & Time | Saturday | That Tent | 9 p.m.
As we've been doing for the past several years now, we're making it our mission to help you get acquainted with as many bands as we can from Bonnaroo's impressive 2016 lineup.  We'll start from the bottom and work our way up, paying special attention to the smaller and lesser known acts on this year's bill. Keep reading for your Bonnaroo Band of the Day…
LEARN
It's not often that essentially brand new bands find their way so high on the Bonanroo bill without some kind of viral, mainstream hit, but it's also not often that brand new bands are the merging of two musical greats: Les Claypool and Sean Lennon. Claypool's Primus and Lennon's The Ghost of a Saber Tooth Tiger toured together, and it was then, backstage, that the pair began began kicking around the idea of The Claypool Lennon Delirium, realizing they both effectively had a year off. Backstage jams morphed into full-on recording sessions, with Lennon staying in Claypool's guest house to write and record over the course of six wine-fueled weeks.
The result is the project's full-length debut, The Monolith of Phobos, which drops this Friday, June 3, just in time for Bonnaroo. Merging Claypool's weird, proggy approach with Lennon's ear for pop accessibility and their mutual experimental proclivities, the result is a freaky, unhinged, eclectic, and staggering mix of musical sensibilities that definitely feels like the sum of its parts. The duo recorded all of the instruments, with Lennon taking a stab at drums and pushing his technical prowess on guitar at Claypool's instance, and, live are set to be joined by Mark "Money Mark" Ramos Nishita of the Beastie Boys (keyboards) and Paul Baldi of the Fungi Band (drums), to round out their sound. While it's true that The Claypool Lennon Delirium are just getting started, the group's combined pedigree should be more than enough assurance that their 'Roo debut will be magical.
LISTEN | "Sleep Alone"
WATCH | "Cricket and The Genie" (Official Lyric Video)
CONNECT
More from The Claypool Lennon Delirium | Site | Facebook | Spotify
More from Bonnaroo | Tickets | Lineup | Site | Facebook | Twitter