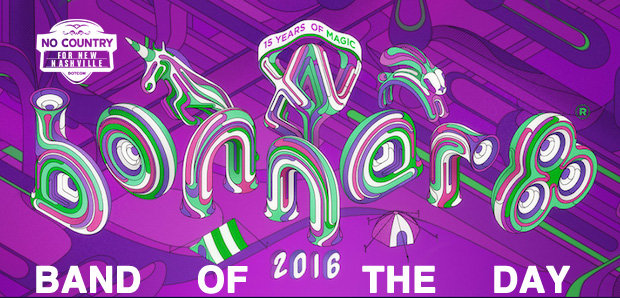 Bonnaroo Artist | Dylan LeBlanc
Bonnaroo History | Newbie
Stage & Time | Saturday | Who Stage | 1:45 p.m.
As we've been doing for the past several years now, we're making it our mission to help you get acquainted with as many bands as we can from Bonnaroo's impressive 2016 lineup. In addition to the main stage acts, we also want to be sure to give the Club Stage bands some love, so, for the remainder of our coverage, we'll be doubling up with a second daily spotlight. They might be the smallest artists on Bonnaroo's bill, but the Club Stage boasts some of the best and most exciting up and coming acts around. As with our main stage previews, we'll start from the bottom and work our way up. Keep reading for your Bonnaroo Club Stage Band of the Day…
LEARN
Although Dylan LeBlanc has been creating music for almost his entire life, 2016 marks the year when people finally started paying attention. The talented 26-year-old has been performing since the age of fifteen, when he began immersing himself into the Muscle Shoals music scene. Due to his parents' divorce, LeBlanc moved backed and forth between Alabama and Louisiana during his childhood. His father was a popular session player and songwriter in Muscle Shoals, and was a huge influence on LeBlanc's sound. During high school, he formed the alt-rock band Jimmy Sad Eyes Blue, but the project came to a halt when LeBlanc was forced to enter rehab. After treatment, he made the life-changing decision to pursue music full-time.
After a few years of performing with various local bands, he released his first solo album, 2010's Paupers Field. The record got the attention of national critics, thanks in part to his duet with Emmylou Harris on "If the Creek Don't Rise." After earning great support slots for artists like Lucinda Williams, he headed back into the studio and released Cast the Same Old Shadow in 2012. LeBlanc's gritty sound and wistful lyrics once again earned acclaim, and even got him a spot performing on Bruce Springsteen's national tour. Earlier this year, he released his third studio album, Cautionary Tale, which takes a hard look at the many demons he's encountered in his short lifetime. The record's title track could have been plucked from an early 2000's Ryan Adams album, thanks to its intense emotion and entrancing storytelling. Makes sure you experience his stunning live set for yourself when he makes his debut at Bonnaroo this year.
LISTEN | "Cautionary Tale"
WATCH | "Emma Hartley" (DUMBO Sessions)
CONNECT
More from Dylan LeBlanc | Site | Facebook | Twitter | Spotify
More from Bonnaroo | Tickets | Lineup | Site | Facebook | Twitter