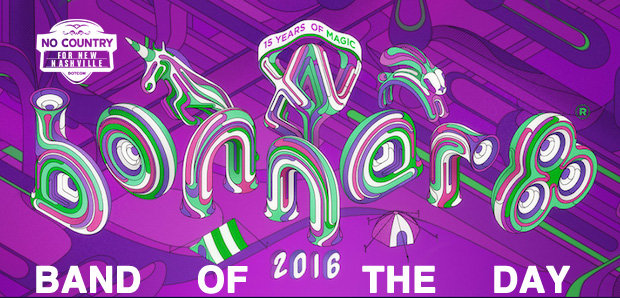 Bonnaroo Artist | Henry Wagons
Bonnaroo History | Newbie
Stage & Time | Friday | Who Stage | 1 p.m.
As we've been doing for the past several years now, we're making it our mission to help you get acquainted with as many bands as we can from Bonnaroo's impressive 2016 lineup. In addition to the main stage acts, we also want to be sure to give the Club Stage bands some love, so, for the remainder of our coverage, we'll be doubling up with a second daily spotlight. They might be the smallest artists on Bonnaroo's bill, but the Club Stage boasts some of the best and most exciting up and coming acts around. As with our main stage previews, we'll start from the bottom and work our way up. Keep reading for your Bonnaroo Club Stage Band of the Day…
LEARN
Henry Wagons is well known in his homeland of Melbourne Australia, but fits right into the new Nashville scene as well.  In his native country, the renaissance man hosts Australia's biggest national Americana/roots radio show, is a television personality on a local art program, and is the creative mind behind a music interview program on another channel; yet, his music remains the focus of his attention.  A mismash of styles that veer from outlaw country to rock songs that meld influences from Elvis, Orbison, Cash, or Cave, Wagons has created an unavoidable tour de force that demands head bobs from the crowd, and he has proven that on tour in support of acts like Lucinda Williams, Justin Townes Earle, Calexico, Will Oldham, just to name a few.
Henry got his musical start performing as frontman of outlaw band Wagons, but spent considerable time in Nashville recording his first solo album, After What I Did Last Night…, with local producer Skylar Wilson (Justin Townes Earle, Caitlin Rose, Andrew Combs).  He also dropped a mini album, Expecting Company?, which includes a duet with Alison Mosshart (The Kills, Dead Weather), while he was in town.  Needless to say, he made the most of his few months in Nashville, and captured influences from his native Australia and Music City.  Head below to hear a bit of his solo material and the Mosshart duet, and make it a point to catch his early afternoon set to kick your Friday off right.
LISTEN | "Unwelcome Company" (ft. Alison Mosshart)
WATCH | "Santa Fe" (Official Video)
CONNECT
More from Henry Wagons | Site | Facebook | Twitter | Spotify
More from Bonnaroo | Tickets | Lineup | Site | Facebook | Twitter