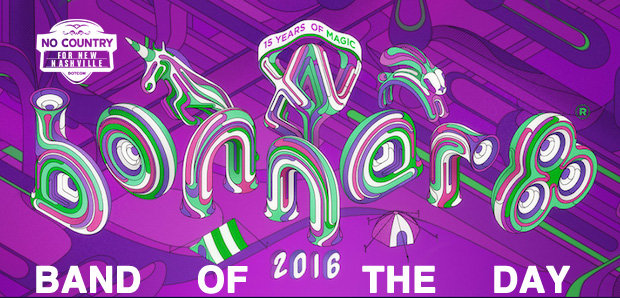 Bonnaroo Artist | Mothers
Bonnaroo History | Newbie
Stage & Time | Friday | Who Stage | 2:30 p.m.
As we've been doing for the past several years now, we're making it our mission to help you get acquainted with as many bands as we can from Bonnaroo's impressive 2016 lineup. In addition to the main stage acts, we also want to be sure to give the Club Stage bands some love, so, for the remainder of our coverage, we'll be doubling up with a second daily spotlight. They might be the smallest artists on Bonnaroo's bill, but the Club Stage boasts some of the best and most exciting up and coming acts around. As with our main stage previews, we'll start from the bottom and work our way up. Keep reading for your Bonnaroo Club Stage Band of the Day…
LEARN
Effectively brand new to the scene, Athens, Georgia based Mothers began as a solo vehicle for frontwoman and visual artist Kristine Leschper, conceived as a new artistic outlet as she finished up her studies in printmaking at the Lamar Dodd School of Art. A self-taught singer and multi-instrumentalist, influenced by experimental folk and moody indie rock, Kristine developed her own local following throughout 2013 and 2014, during which time she began writing much of the material that would appear on Mothers' debut. Deciding to expand the project into a full band, Leschper recruited drummer and multi-instrumentalist Matthew Anderegg, a fan of her work, to add broader instrumentation, eventually rounding out Mothers' lineup with guitarist Drew Kirby and bassist Patrick Morales.
The group tapped producer Drew Vandenberg (of Montreal, Deerhunter) to helm their debut, When You Walk a Long Distance You Are Tired, which dropped earlier this year, and, ahead of its release, found an initial wave of buzz for self-recorded b-side "No Crying in Baseball." With poetic, conceptual, and artistic lyricism and arrangements, Mothers' range of influences is broader than initial meets the eye, pulling not just from indie and folk, but also math rock and post-hardcore. An opening run with of Montreal helped further boost their presence last year, and, now that the record is out, Mothers are winning over fans and critics alike with their personal, hypnotizing style and sweeping, eclectic, sonic sensibilities. Of all of the fantastic Club Stages performers this year, this band are undoubtedly one we're most looking forward to, and we encourage you to dig into their music ahead of the fest.
LISTEN | "No Crying in Baseball" 
WATCH | "It Hurts Until It Doesn't" (Official Video)
CONNECT
More from Mothers | Site | Facebook | Spotify
More from Bonnaroo | Tickets | Lineup | Site | Facebook | Twitter