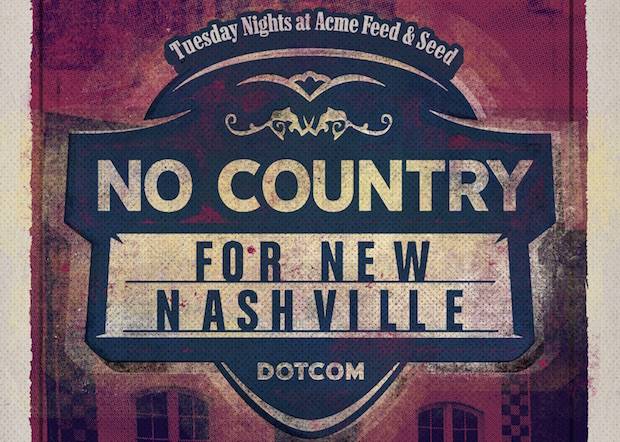 Our Tuesday night showcase series at Acme Feed & Seed is still going strong twice a month, and is now being broadcast live on Acme Radio, in case you want to listen from afar. On Tuesday, April 26 we will be welcoming Goth babe, Crease Reader, and The Inscape; likeminded brethren who all have a slightly unique take on garage/fuzz rock. As always, we're bringing you all this music for FREE, starting at  7 p.m., as we return to our spring/summer schedule. For more info on the bands, please read on, and be there for all three performances when No Country Presents: Fuzz Night at Acme.
GOTH BABE
After dropping his debut EP, Wasted Time, this past winter, Griffin Washburn (a.k.a. Goth Babe) has been in our steady listening rotation. His first go at it in Music City was with a band called The Lagoonas, but Washburn soon decided he wanted something with a little bit more bite, to help add more garage flavor to the Nashville indie rock soup. Now, with the help of some of his friends, he's created a righteous brand of lo-fi psych/surf rock, and we assure you it is the perfect thing to get you ready for the summer. Listen below, and be there when he closes out our special fuzz edition of Acme Tuesday night.
CREASE READER
Equally awesome local indie rockers Crease Reader are relatively new on the scene, but both of their EPs are worth a heavy listen. Lo-fi to their core, the first EP, High Heavens, was recorded by the band independently at their Woodbine practice space on two different cassette four track tape machines in just a couple of days. The follow up was recorded at Petti Sound in Nashville only four months later. The new EP, dubbed Petti Sound Session, was released digitally, and as limited hard copies of hand numbered yellow cassettes. Sounds to us like CR is scratching every indie itch you could ever hope for, so if that's all up your alley, check them out live Tuesday.
THE INSCAPE
Self-describing their sound as "surreal americana," The Inscape are yet anther local indie group we've seen wail in person. Imagine if Neil Young and The Brian Jonestown Massacre's Anton Newcombe got together to make a record, and you're getting a feel for what John Condit and Robert Hudson are creating together. Take a gander below, and get to Acme on time to maximize your night of fuzzy awesomeness.
Goth Babe, Crease Reader, and The Inscape will perform Tuesday, April 26 at Acme Feed & Seed's Fuzz Night. The show is 21+, music begins at 7 p.m., and, per usual, it's totally FREE!
Downtown PARKING can sometimes be an issue. However, if you're willing to walk a few blocks, street parking is typically easy to find on the numbered avenues south of Broadway or along Korean Veterans Blvd, and metered spaces are typically free after 6 p.m.