Liz Cooper & the Stampede, Tim Easton, Aberdeen Green
Acme Feed & Seed; Nashville, TN
February 2, 2016
Review by Jacob Ryan (@GonzoWithGusto). Photos by Brendan Donohue.
Looking to keep last year's mojo going into 2016 for our No Country Presents partnership with Acme Feed & Seed, our second showcase of the new year was eclectic as ever. The bill featured Appalachia Americana from  Aberdeen Green, East Nashville bluesman Tim Easton, and psych rock inspired outfit Liz Cooper & The Stampede. Read on for a full recap, and check out some great shots from contributing photographer Brendan Donohue.

Driving along the Shelby Bridge, with high-rises and building cranes framing the dreary gray sky, I wondered if I'd lived in Nashville long enough to complain about how much it's changed. Of course, there are some constants, like the No Country Tuesday night showcases at Acme. Covering the local "beat" in Music City is always fun, and usually pretty challenging. Our downtown showcase is a nice way for us as a group to reconvene, recoup, and reaffirm our mission. Of course for you, the readers and fans, it's all about the music, and it's worth mentioning that we wouldn't do what do if we didn't truly love the music as well.
Aberdeen Green. Photo by Brendan Donohue.
Settling onto a bar stool and eager to dry off, I ordered a whiskey. To me, it's the only thing to drink when it's cold and wet out. Before too long, Aberdeen Green was ready to kick things off. The first thing I noticed was the stage presence of the dual lead singers. It was obvious this was not their first rodeo. From writing the preview, I knew they'd opened for big names, national touring acts, and it showed. Their harmonies were crisp, on point, and by the second song, "The Fighting Type", most everyone in the crowd seemed tuned in. With the help of a third performer, a skilled acoustic guitar/banjo picker, the ladies broadened their already big Americana, bluegrass, and country flavored tunes. Later on, with a kick-drum-stomp leading the way, they belted out my favorite song of their set, "The Crooked Road," inspired by the Appalachian trail. They would be a tough act to follow, but I had a feeling our next performer would be up for the challenge.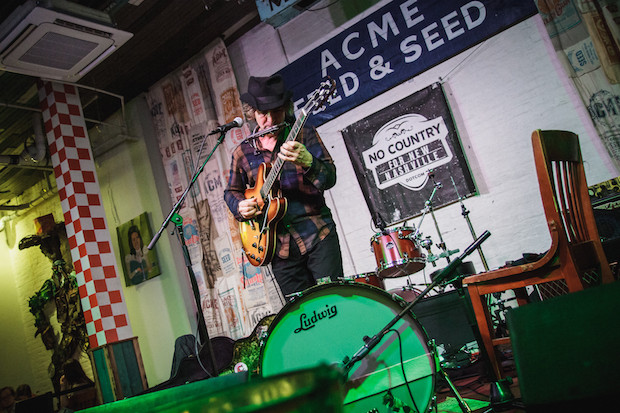 Tim Easton. Photo by Brendan Donohue.
Resident East Nashville song-writing guru Tim Easton is an interesting personality we like to keep up with. With a massive catalog to pull from, plus, no doubt an endless supply of covers, this musicians' musician could have done any number of things with his Acme timeslot, but went with the one-man-band approach. Made popular by contemporary artists like Shakey Graves, the foot drum and guitar while singing is certainly no easy task. Taking it a step further, Tim adds some Dylan inspired harmonica, and makes the whole thing look like child's play. Changing time signatures with his feet every other song, wailing on the harp, picking nasty blues riffs, all while singing bar room ballads; songs about one-night stands, and what life is like just off Gallatin Pike. The simply stated, but profound, "Burgundy Red" was my personal favorite, but all his music has that early Beck-ish anti-folk vibe I love. Please do yourself a favor if you haven't already, and get hip to Mr. Easton.

Liz Cooper & The Stampede. Photo by Brendan Donohue.
After a soggy and regrettable cigarette break, it was Liz Cooper & The Stampede's turn to put it down. This version of their lineup was a three piece, and I was immediately struck by how full and tight their sound was; chilled out psychedelic work, with tasty elements of jam mixed in for good measure. Liz is a super talented player, and was orchestrating the arrangements in this wonderful laissez faire yet intentional manner that was cool to watch; in complete control, while still keeping the jam fluid. By the last song of their set, they were completely in the zone, until their time came to an end. It was obvious they could have gone for at least another thirty minutes… or more! I look forward to seeing them again in the future, when they can keep the vibes going even longer.
Despite the weather, Acme was rocking, and I was surprised at how crowded it stayed the whole evening. So rain or shine, stay tuned for more info on our next showcase, and while you're here, check out some great shots from Brendan Donohue below.