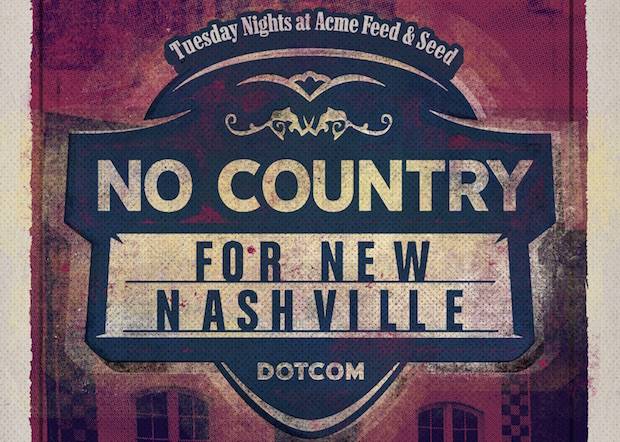 After a holiday breather, we're back for a new year of Tuesday night Acme Feed & Seed showcases! If you've been with us for awhile, you'll likely remember that our weekly, curated event began when Acme first opened in the summer of 2014, and we've rarely missed a Tuesday since, hosting everything from rock to soul to funk to hip hop from Music City and beyond. New years mean new beginnings and we have one bittersweet announcement to share: going into 2016, we're going to be scaling back at Acme, bringing your roughly two showcases a month instead of one a week. As Acme grows (have y'all checked out Acme Radio yet?) and so do we, this provides us more time and energy to bring you the best event we possibility can. We'll still keep you up to speed with previews and coverage, so be sure to follow the site for the latest news on our live events.
Our first showcase back will be Tuesday, Jan. 12, and features southern rockers The Vegabonds, soul singer Alicia Michilli, and indie folkster  Mateja. As we always do, we're bringing you all this music for FREE, starting at our earlier winter time of 6 p.m. For more info on the bands, please read on, and we look forward to seeing you all again on Tuesday.  
THE VEGABONDS
Pushing their version of southern rock, reminiscent of bands like The Black Crowes, with the cohesiveness of legends like Led Zeppelin, The Vegabonds are the real deal. Calling their sound "new southern rock," the five-piece have won over thousands of fans all over the southeast, and done it the old fashioned way — playing at the drop of a hat, and touring exhaustively. With three records already under their belt, including their latest, RCA Studio B (named for the famous studio where it was recorded), we assure you The Vegabonds are ready for the big leagues, and they will definitely prove it to you Tuesday.
ALICIA MICHILLI
A twenty-two year old soul singing sensation, Alicia Michilli has a voice sent from above. She recently moved to Nashville from Detroit (no word yet on if she knows fellow D-town native Jack White), and the essence of Motown permeates everything she does with her music. She's already teamed up with her long time hero, Keb' Mo', for his monthly Blues Jam at The Fontanel in north Nashville, and appeared in the quarterfinals on America's Got Talent, all while putting in work on her self-titled debut, due out this year. Not too shabby for such a new face. See what the fuss is all about for yourself.
MATEJA
A passionate, indie flavored folk rocker, Mateja (birth name Micah Kolk) got his start in Music City just over two years ago. With help from Brett Moore, of the soon-to-be-no-more Apache Relay, Mateja recorded his self-titled debut EP, which highlights his songwriting and uplifitng energy. Think a more upbeat version of Bon Iver, and you're starting to a feel for his sound. Have a taste below, and get to Acme on time to let him get your evening off to a righteous start.
The Vegabonds, Alicia Michilli, Mateja perform Tuesday, Jan. 12, at Acme Feed & Seed. The show is 21+, music begins at 6 p.m., and, per usual, it's totally FREE! Downtown PARKING can sometimes be an issue. However, if you're willing to walk a few blocks, street parking is typically easy to find on the numbered avenues south of Broadway or along Korean Veterans Blvd, and metered spaces are typically free after 6 p.m.