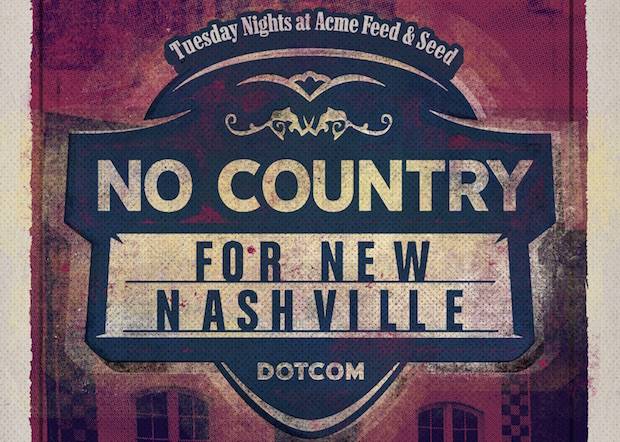 By now we hope you've heard, our live events production wing, No Country Presents, has taken up residence at Lower Broadway's hippest new restaurant, lounge, retail, and event space, Acme Feed & Seed, where we've been bringing you a weekly, FREE, Tuesday night showcase, featuring some of our favorite emerging local and national talent for over a year! The curated showcase runs from 7:30 to 10:30 p.m. each week, and has featured everything from folk to funk to rock to indie. For our next installment, on Tuesday, Nov. 3, we're bringing you an all-local bill, featuring site faves The Gills, impressive and eclectic rocker Dean Jackson, and buzzworthy up and comers Carey! Keep reading to find out all about them, and cancel any other plans you might have Tuesday night, because you're coming to hang with us. Got it?
THE GILLS
Originally from Pensacola, FL, The Gills have been Nashville based for several years now, and have been on our radar for just as long. They made a strong impression with 2012's Motor Running, and seem to be drifting in a grittier, more alternative direction than their previous pop rock sound, if new single "Rubberband" is any indication (watch the official music video below). The group's debut full-length is due out in early 2016, and we have no doubt it'll be one of the best local releases of next year. Come see what all of the fuss is about when we welcome the buzzworthy band to the Acme stage for the first time!
DEAN JACKSON
Formerly involved with acclaimed local show spaces The Basement and Basement East, eclectic local rocker Dean Jackson has turned his focus back to performing, and has racked up quite an impressive array of collaborators in recent years. For his upcoming solo record, Jackson tapped the help of site faves like Pat Sweany, John MacCauley, and Courtney Jaye. For his recent project WHITELIGHTER(s), Dean worked with current and former members Deer Tick, Diamond Rugs, Blank Range, Turbo Fruits, and more. Before that, he was a part of Church of the Good Hustle, which is the material you can expect to hear (mixed with new tunes) at Acme. Epic, right?
CAREY
New to the scene, Carey are a band we first told you about last month, when we raved about their new single "Smokin It." What began as an all-analog recording project (revamped after the demise of former group Pang), Carey excel at layering tight, hooky power pop melodies over warm fuzzy guitar riffs. Their debut EP should be dropping anytime now, and we can't wait to hear what Carey have in store for their Acme set.
The Gills, Dean Jackson, and Carey will perform Tuesday, Nov. 4 at Acme Feed & Seed. The show is 21+, music begins at 7:30 p.m., and, per usual, it's totally FREE. Downtown PARKING can sometimes be an issue. However, if you're willing to walk a few blocks, street parking is typically easy to find on the numbered avenues south of Broadway, or along Korean Veterans Blvd. Metered spaces are often free after 6 p.m.