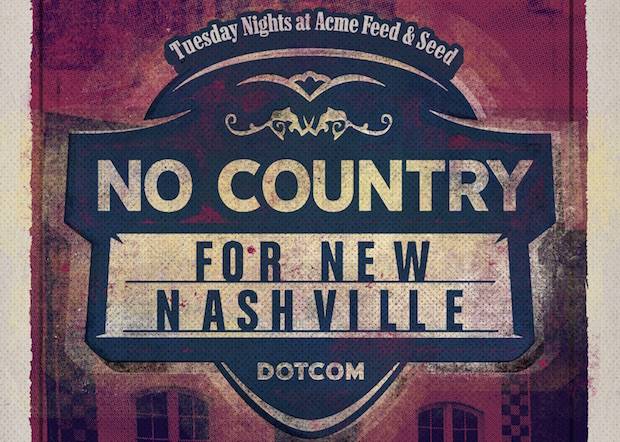 Attention all show hounds, No Country Presents' weekly showcase at Acme Feed & Seed continues to roll on through fall! This Tuesday, Oct. 27 features folk rocker Drew Michael Blake, songstress Tanya Montana Coe, and the eclectic psych inspired Stoop Kids. As we do every week, we're bringing you all this music for FREE starting around 7:30 p.m. Get there early for some Southern cookin', and to cash in on a full night of live music. For more info on the bands, please read on, and we look forward to seeing you all again on Tuesday. 
DREW MICHAEL BLAKE
Getting his start in Music City in 2011, Drew Michael Blake does folk rock right, with well crafted lyrics and toe tapping rhythms. His debut EP, The Shot. The Push. The Shove., is the perfect introduction to his sound, which has recently expanded. Drew now has a steady backing band, The Belfry, which will no doubt be heavily involved with his follow up release slated for later this year. Have a taste below and get a feel in person, for another promising local that will be invading your radio airwaves soon enough.  
TANYA MONTANA COE
A true native Nashvillian (she was born here), and the daughter of legendary outlaw country singer David Allan Coe, Tanya Montana Coe is an apple that hasn't fallen too far from her fam's musical tree. Bought up on hard work, being raised by a single mother, and having to assist in raising some siblings, Tanya hustled her way through college, and, in addition to launching her music career, she also runs a local clothing store, Goodbuy Girls. As for her sound, she's alt-Country with some Americana flavor, and, with the bloodline she carries, she's sure to rock. Be there Tuesday night as she celebrates the release of her debut record Silver Bullet, which drops the day before the show! 
STOOP KIDS
Self describing their sound as a "psychedelic jukebox", Stoop Kids take elements of hip-hop, doo-wop, surf rock, and jazz, throw them into a blender with some other secret ingredients formulating an inspired new sound. The New Orleans formed band has only been at it for three years, and have been hard at work in the studio, working on their next offering. Get to Acme on time to get a sip of the eclectic musical smoothie.  
Drew Michael Blake, Tanya Montana Coe, and Stoop Kids will perform Tuesday, Oct. 27, at Acme Feed & Seed. The show is 21+, music begins around 7:30 p.m., and, per usual, it's totally FREE! Downtown PARKING can sometimes be an issue. However, if you're willing to walk a few blocks, street parking is typically easy to find on the numbered avenues south of Broadway or along Korean Veterans Blvd, and metered spaces are often free after 6 p.m.