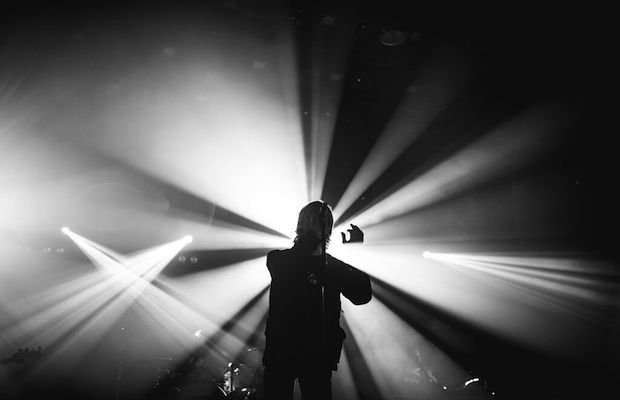 The Neighbourhood
w/ Bad Suns, HUNNY
Ryman Auditorium; Nashville, TN
Sept. 25, 2015
Review by Meredith Galyon. Photos by Nolan Knight.
Last Friday night may have seemed like just another night in Nashville, but stepping into the Ryman Auditorium for The Neighbourhood, Bad Suns, and HUNNY show felt like being teleported straight to Southern California. All three bands are from the Los Angeles area, and brought their own version of SoCal vibes to the Mother Church for a night full of moody, alternative rock. Read on after the jump for some highlights from the show and some stunning photos from Nolan Knight.
Maybe I was a little too quick to make the California comparison, because the weather in Nashville that night sure as hell wasn't sunny. I met up with my pal/No Country photographer Nolan after walking a little less than a mile in the nasty rain and we ventured inside for his first Ryman show, which was a cause for celebration in itself. We had great seats on the floor about 7 or 8 rows back to make it even better, and sat down just as HUNNY was finishing up their first song.

HUNNY. Photo by Nolan Knight.
The room was almost full, save for a couple of bare spots in the corners of the balcony, and I quickly noticed that I was one of the oldest people there, which was a little unsettling considering that I'm 25 (okay, so that's not entirely true because there were some moms there, but they don't count). We were also one of the few people who weren't decked out in NBHD beanies and shirts, so kudos to those guys for being on top of their merch game. HUNNY, a relatively new band in the works of putting out their debut EP, dominated the stage – literally, there were six of them – accompanied with a colorful backdrop to go along with their alt-pop songs. I recognized "Natalie," the latest single from Pain/Ache/Loving (out Oct. 9), from the set, and dug the rest of the tunes I hadn't heard before.
Bad Suns. Photo by Nolan Knight.
Next up were Bad Suns. I've probably listened to their hit single, "Cardiac Arrest," about a million times since it came out last year, so to say I was excited to see this set would be a serious understatement. Lead singer Christo Bowman waltzed out onto the stage very dramatically, wearing a black cape and slowly walking around to survey the room before dropping the cape and picking up a guitar to dive right into "Matthew James" and "We Move Like The Ocean." I'm continually perplexed by his voice, which sounds like a hybrid of the singers from Kaiser Chiefs and Depeche Mode, which makes the connection to their brit-pop influences inevitable – but I'm pretty sure he's American? Whatever the case, he sounds awesome, and it was pretty rad to hear the crowd go nuts when the opening riff from "Cardiac Arrest" started.
The Neighbourhood. Photo by Nolan Knight.
In all my years of going to shows, I'm not sure that I've ever seen a stage setup that was so directly reflective of the music itself; dark, hazy, and brooding. The backdrop was a black screen that lit up with white palm trees, just like the album artwork for their new single "The Beach", that flashed off and on with some of the song lyrics (a repetitive "WHAT" lit up during the song "WDYWFM?"), and the lighting was stark white. You can definitely tell they aren't fans of color, so their aesthetic is right up my alley. They played several songs from I Love You. (like "Let It Go" and "Afraid", a personal fave) mixed in with some of the newer singles, and of course, it wouldn't have been a Neighbourhood show without hearing "Sweater Weather". But things got a little weird towards the end of the set when the band disappeared, and frontman Jesse Rutherford returned solo to sing along to some pre-recorded, (I'm assuming) unreleased tracks. These songs were definitely more hip hop influenced than their normal catalog, which is saying something considering his style of singing has always lingered on the edge of spoken word. [editor's note: these were songs from the band's hip hop inspired 2014 mixtape '#000000 & #FFFFFF'] I can't say that I was as much a fan of this little intermission as I am of the band's typical indie pop fare, so I was relieved when the rest of the group returned to the stage to finish out the set with "RIP 2 My Youth." This show was much different than when I saw them at their sold out Cannery Ballroom appearance a few years ago, but it was still what you would expect for this kind of music, and now I'm even interested to hear the new album.
—