Reviewing something that falls short of expectations is never a fun task, whether it's a band you love having an off night, some new artist who can't live up to their own hype, or, in this case, a full-fledged music and culture fest. Transported from the west coast to Nashville, last weekend's Ink N Iron fest was poised, on paper, to be a celebration of many things Southern California culture holds so dear: tattoos, hot rods, pinup models, punk, rockabilly, outlaw country, and more. While the eclectic cultural hotbed of Music City seems conducive to support most any scene, the event, its first time venturing outside of a successful run in Long Beach, found that maybe Nashville just doesn't have enough tattoo and rockabilly enthusiasts to meet their lofty expectations. Watching something so spectacularly underperform is discouraging to fans, awkward for press, and certainly disheartening for artists and organizers.
Let's be clear: we were rooting for this thing. It's an intriguing premise, to be sure, but the bread and butter of what piqued our interest was the diverse, interesting lineup of musical acts. The reality is, it just didn't work. Plagued by dramatic under-attendence, a major cancellation, confusing ticket policies and ill-informed staff, and competition from events all over town, Ink N Iron managed to lose its footing this year, despite some wonderful performances. We sent as many writers as we could spare to document the fest, and, below, you'll find our honest account of what we had hoped would be a successful weekend, but what definitely fell short on expectations (lord knows Nashville needs a cool, proper festival, but maybe there's a good reason why we don't have one). If Ink N Iron takes it back to the drawing board, scales down their scope, and finds a revamped way to return, we'd chalk it up to growing pains and welcome them back. In the meanwhile, all we have is our account of a sluggish start. Read it below (and be sure to check out all of the great photos, which are way less of a bummer).
THURSDAY
Merle Haggard
My entire Ink N Iron experience was remarkably brief, unfortunately (that's what happens you're an editor at a website covering a weekend jam-packed with shows). Call it a premonition or call it a lucky night off, but I felt compelled to make it to Merle Haggard on Thursday, for what was supposed to be his first of two evenings (in actuality, Haggard declined to play the following night, a huge blow to the fest and concertgoers alike). Wandering in late, lawn pass on wrist, I was quickly struck by how ill-attended the event was. Thursday night was a late add-on, I reminded myself, and with only four bands and one stage, maybe it just didn't strike people as worth the money. They'll see Merle tomorrow anyway, my naive inner-monologue tried to justify (little did I know…).
Scanning the amphitheater, I was stuck by the sea of empty seats. Surely, I thought, I'll be allowed to go in and stand in the back in the grassy area; that looks like a lawn, right? Nope, denied. Ask another security guard, all of whom seem very confused. No, still confined to the way, way back. Ok, fine, I don't need special treatment, I've sat in plenty of fields for shows, I thought, I'll just make my way to the back. The back, as it turned out, was a large field, ill-lit, and physically separated from the amphitheater by a fence and line of trees; as in, essentially no line of sight to the stage, where, just a 100 yards away, Merle Haggard would soon play to, by my estimate, around 400 people. Ouch. Also, what the fuck. Instead of being able to see the stage, we were expected to watch a pair of massive, LED monitors (very nice LED monitors though, to be fair). I looked around, hoping, at least, I'd find a lively group of fellow commoners relegated to the lawn I could pal around with. Eight people, I count. The entirety of the lawn section. Oof. Deciding not to approach anyone, for fear of seeming ill-intentioned (there were very few lights and just as few security personnel back on the ol' lawn), I made my way to the beer tent (hey, Lagunitas IPA, maybe this was going to be a good night after all), and planted in the grass for Merle, undeterred by the less than ideal ambience.
A few cover tunes from an opener whose name I didn't catch, an extended intro from an overly apologetic bandleader, and, lo and behold, the man himself emerged, decked out in camo, looking none too enthused, and, dare I say, somewhat zombie-like in demeanor. Still- it was Merle fucking Haggard, and he was great. The band was tight, the songs were well-curated, a mix of originals and cover tunes, and the "stories" we were promised were at least entertaining, if not somewhat disgruntled (Merle was none to happy about the low turnout). 40 minutes in or so, the event already running late, I had to take off, a combination of general fatigue and an early morning ahead. Maybe they can just pump this video feed into YouTube like Bonnaroo does, I mused, realizing I just spent an hour alone in a field watching a giant TV screen of a concert I didn't actually witness in person, that way I wouldn't need to put on pants. C'est la vie, surely the rest of the weekend will pick up, right? Right?!? [PO]
I also came early to see the legendary outlaw Merle Haggard on Thursday night, due to conflicts on Friday. My boyfriend and I parked much further away than we actually needed to since we figured there'd be, like, lots of people at this event. As we were walking there I kept telling him, annoyingly, that we must be in the wrong place since there was no one around. I ended up being glad I brought him due to the lack of visible security and lights that resulted in sitting on a creepy dark lawn, which I wouldn't have wanted to have been on by myself. Somehow we made it further along than Philip, and, while we didn't get to the amphitheater seats, we could see the stage from where we were sitting in the grass. Haggard didn't go on until an hour after he was supposed to have started his special two-hour set. When he did, he played the expected hits – "Mama Tried," "Okie from Muskogee" – and a half-hearted cover of "Folsom Prison," but he definitely didn't seem happy about the fact that the seats in front of him were empty. If the fest had let everyone through to sit in the amphitheater, then it wouldn't have looked quite as bad. Clearly not happy with the turnout, at the end of the hour-long set (which had been advertised as two hours) Haggard said this was just a warm-up for the following night… [JSa]
Arriving at Ink N Iron on Thursday night, I had many of the same immediate feelings of uncertainty (and, frankly, uneasiness), as have been broadcast across all social media from what seems to be practically everyone who was in attendance. The dismal parking situation had me fooled into thinking that absolutely every single person in Nashville must have been at Bicentennial Park when I first arrived. But the moment I walked into the park, I realized I was sorely mistaken. Aside from a scattering of security officers, people were few and far between as I made my way to the amphitheater stage. While my lawn wristband guaranteed me a spot on a giant, empty field near the car show where I would be able to watch the show broadcast live onto two big screens, a security officer took some pity on me as I wandered around the pitch black park, lost, and ushered me into the VIP area. I took a seat among about 200 other fans, and after a few less than thrilling opening sets, Merle took the stage seeming none too pleased about quarter-full amphitheater. Still, he was professional, playing everything you'd hope and inspiring fans to sing along and dance. At the end of his set, he stressed that this was really just a practice for the following night, and I could only hold onto hope that the festival would get better as the weekend went on. [MW]
FRIDAY
Hot Club of Cowtown
There were lots of bands like Hot Club of Cowtown at this festival, but they did what they do particularly well: old school country, stand-up bass, no drummer. It was fun to see, and original enough to keep me interested. While the music was good, what really set them apart from the rest was their bandana-clad Corgi mix relaxing on the shady stage. [JL]
Cigar Store Indians
The great thing about an under-attended festival is that if you find something you like, it feels like no one knows about it but you. That's how it was listening to Cigar Store Indians. They seemed like just a few guys who play songs together in their spare time and they happened to be really good. Singer and guitarist Ben Friedman is a natural born crooner and conversationalist, making the band's setlist out of new songs and crowd suggestions. It was a great setlist for easy listening, and one of Ink N Iron's diamonds in the rough.  [JL]
Shooter Jennings. Photo by Nolan Knight.
Shooter Jennings
As a general rule, the children of celebrities tend to be worthless at best.  But when Shooter Jennings – son of country legend Waylon Jennings – took the stage early Friday night, it was clear that he was an exceptional case.  Backed by an amazing group of road-haggard musicians, Shooter rolled through his set with an easy confidence.
The highlight of his performance, without a doubt, was an acoustic rendition of his 2013 single "The Outlaw."  The sunset died in the reflection of his aviator sunglasses as he sang "…You wanna run your mouth all day long, you better keep your eyes on my motherfuckin' trigger finger…" and threw the gauntlet down.  So who's brave enough to tell Shooter Jennings he isn't a rock star in his own right?
Not me, man. Not me. [RR] 
Reverend Horton Heat. Photo by Nolan Knight.
Reverend Horton Heat
For anyone who came to Ink N Iron for the car show, the burlesque show, or the pin-up contest, hearing Reverend Horton Heat play was a familiar treat.  Rev and the boys are one of the only rockabilly bands to ever get a taste of mainstream success, and once you see them live it's easy to see why – they blazed through their Ink N Iron set like a well-oiled, well-greased, well-pompadoured machine.
The time constraints of Friday's show actually made it much more enjoyable to me – when headlining, Reverend Horton Heat tend to play for upwards of two hours, which can get pretty stale.  But the festival format served to showcase the best that these psychobilly vets had to offer, even if most of the crowd was too square to notice. [RR]
Merle Haggard
Merle Haggard, the Okie from Muskogee, put on a once-in-a-lifetime performance late Friday night at Bicentennial Mall Park.  Instead of sleepwalking through hits such as "The Fightin' Side of Me" and "Mamma Tried," Merle opted to set aside the nostalgia dance and reconnect with his inner artist. He gave the Ink N Iron crowd something really special – a brand new performance piece called SILENCE.  He didn't play a single note.  He didn't even come onto the stage.  It was 45 minutes of complete nothingness (I assume it was an artistic representation of his hatred of Obama, but his highbrow delivery was a bit over my head).
Then, for his encore, the 78-year-old Poet of the Common Man took to social media. That's right, Merle Haggard knows how to tweet – how relevant is that!  It was definitely the standout performance of the festival. [RR] 
For those who did stick around long enough for Mr. Haggard's set, I feel sorry. Surely, there were diehard fans amongst the 200 or so people that remained at Bicentennial Mall, but everyone, fan or not, was left feeling short handed (much swearing ensued). In the same breath, an Ink N Iron official told those in attendance that their one-day passes were good for the rest of the fest, which was the smartest decision they made all weekend. At least I got 6 fried Oreos for the price of 3, and Merle's set got called off, "due to circumstances beyond his control," just in time for me to hitch a ride with some friends leaving a Sounds game. [JL]
Photos by Nolan Knight.
SATURDAY
Tattoo Convention. Photo by Nolan Knight.
Tattoo Convention
The Ink half of Ink-N-Iron took place at Municipal Auditorium, about four blocks away from the festival grounds.  Walking into the auditorium, I felt a sense of detachment – there were no side stages, no vendors, no music playing at all – the secondary location made it seem like a completely unrelated event.  Unfortunately, the use of duel venues seemed to affect the artists more than anyone.  The festival's tattoo lineup, much like the music lineup, was epic – but hundreds of award-winning artists were lined up side by side, many of them wearily checking their iPhones as their tattoo guns lay silently unused.
The silver lining, of course, was that tattooed dickheads like me got the chance to get tattooed by world famous artists on the spot instead of waiting for months just to get an appointment. [RR]
Koffin Kats. Photo by Mary-Beth Blankenship.
Rayburn Anthony. Photo by Mary-Beth Blankenship.
A Man Called Stu. Photo by Mary-Beth Blankenship.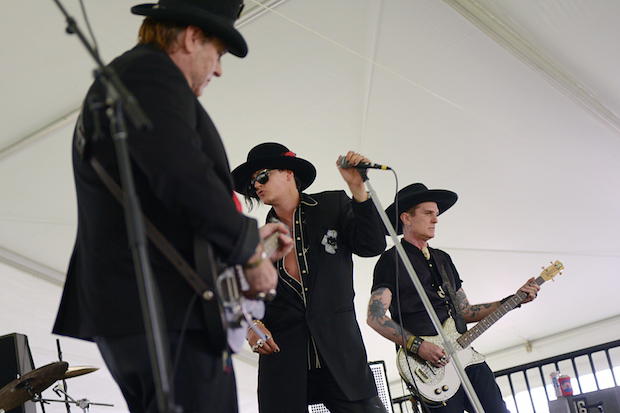 69 Cats. Photo by Mary-Beth Blankenship.
Nekromantix. Photo by Mary-Beth Blankenship.
Nashville Pussy. Photo by Mary-Beth Blankenship.
Nashville Pussy
If you've spent any amount of time in Nashville's beloved dive-y rock club The End, you've seen Bruce (the owner)'s plethora of Nashville Pussy posters adorning the bar. Since I've heard all the hype for years, I was primed to like this band, but wasn't particularly blown away. Maybe it was the 100 degree heat, the Zombieland-esque atmosphere of the festival grounds, or the overly attentive security guards, but I didn't take away much from this set other than watching one of the guitarists climb up the scaffolding and get stuck like a cat up a tree, long after the applause for the final song ceased to ring. Awkward. [LS] 
The Bronx. Photo by Mary-Beth Blankenship.
The Bronx
"DO YOU WANNA DIE OR JUST COME REAL CLOSE?!" With infinite swagger a pretty hammered – but still pretty damn accurate – Bronx rolled into a motley crowd with guitars blazing. For those of you who haven't listened to The Bronx, think Foo Fighters with shredding/screaming (not screamo) vocals at least 80% of the time. SERIOUS ENERGY. The Bronx deserved a crowd at least five times as big and as enthusiastic as they received at Ink N Iron, but let's be real: I'm just glad they didn't pull a Friday-Night-Merle and vamp back to LA. [LS]
The Bronx won first place for realest set of the night. They epitomized the concept of the fest with their in-your-face, pissed off, don't-give-a-shit attitude. Every song was sick, and to be honest so was their frontman. Gaps between songs were full of sex jokes and "Nastyville: population 69" comments, but he really hit the nail on the head when nobody would clap and he said, "no, it's TatFest 2019, you don't want to do the work," and that was pretty much the impression The Bronx left on me. I could relate. [JL]
The Misfits. Photo by Mary-Beth Blankenship.
The Misfits
After a slow Thursday night, I was unable to attend Ink N Iron's Friday session, but I hoped desperately that attendance and general organization would improve. Merle Haggard's controversial cancellation, coupled with reports from my fellow writers that things were still not as smooth as they could be, informed me otherwise. Another busy day, I rushed to the grounds (man was parking a mess, though, to be fair, the festival can't be blamed for that), just in time for the legendary Misfits.
Scoring a coveted amphitheater pass (sorry fellow writers relegated to the lawn, a guy's gotta do what a guy's gotta do), I was happy to see a lot more bodies. There must be, like, 800 people here!, I excitedly thought, trying hard not to put that into perspective. I've never seen this version of the Misfits, in which Jerry Only is the only member (trying saying that three times fast), but I did see Glen Danzig play Misfits songs at Bonnaroo a couple years ago, and that was dope. Joined by his son, Jerry Jr. (who was rocking the same hair and makeup as pop; we're not even going to go all psycho-analytical on that one), the persistent punks chugged through a stacked, fan-friendly set, barely acknowledging the thin attendance.
Horror punk and hardcore faves like "Saturday Night," "Skulls," and "Die, Die My Darling" were a definite treat, and Jerry and co. held it down impressive stamina. Without a doubt, this was my favorite moment of Ink N Iron. Having to jet to another show across town (remember what I said Thursday about this weekend being crazy overbooked?), I left with some faith restored in the SoCal culture fest; what went wrong exactly?, I wondered, because the idea was great. And so were the Misfits. [PO]

Suicidal Tendencies. Photo by Mary-Beth Blankenship.
Suicidal Tendencies
As an old dude who grew up skateboarding, Suicidal Tendencies were my must-see act of the festival.  They appeared before a friendly crowd late Saturday night, right after The "Misfits" did their best Danzig impressions.  Suicidal's drummer acted as hype-man, getting the crowd to chant S! T! S! T! as Mike Muir paced the stage with the same intensity he had back when I saw them in '96.  At one point they even got the mostly-stagnant crowd to form a circle pit.
Suicidal Tendencies proved that they are still the kings of West Coast Thrash.  It's been 34 years, but Mike Muir still really wants that Pepsi. [RR]
There were a few microcosms of Ink N Iron that portrayed the fest as a whole accurately, and Suicidal Tendencies' set was one of them. The two days I spend at Ink N Iron felt almost intentionally disappointing, like I was supposed to leave with a bitter taste in my mouth. Things felt right for a second during "War Inside My Head" and "Two Sided Politics," but when Suicidal Tendencies left the stage without playing "Institutionalized," I wondered if they'd played it and maybe I'm just crazy. I almost expected Coheed & Cambria to not play "Welcome Home" (thank God that didn't happen). [JL]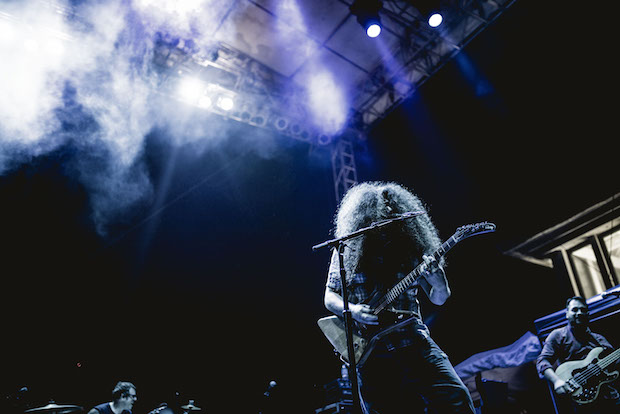 Coheed & Cambria. Photo  by Nolan Knight.
Coheed & Cambria
Rushing back from another show (#nashvillelyfe), I was amped to see Coheed & Cambria. While the bands they've toured with lately have been a little nu-metal-y for my liking, the proggy punk rockers will always have a soft spot in my heart from their Equal Vision days, and Ink N Iron was their first Music City show in close to three years. Where's everyone going?, I wondered, watching the mass exodus that followed Suicidal Tendencies' set. Ok, this is bad, but it's not 'Thursday-night-Merele-Haggard-bad,' I reasoned.
As if they had consulted me before their set, the band, with little fanfare erupted into career-launching classic "In Keep Secrets of Silent Earth: 3," before debuted their latest single, "You've Got Spirit, Kid" live for the first time. "The Crowing," "Time Consumer," and "A Favor House Atlantic," made their way into the short but sweet set that would follow. Holy shit, they're playing the old stuff. I love the old stuff. I mean, I get that the new stuff is all nerdy and technical and high-concept, and has more metal-hard rock crossover appeal, but THE OLD STUFF MAN.
I was giddy. It reminded me of high school, watching them play tiny clubs, really blowing my mind back then. They've still got it, and, despite not seeming to be in the highest of spirits, they sounded the best I've seen in years. Not a bad Saturday night. Running out a few songs early, I was determined to make it make to another show to see some friends. Has anyone ever died from a live music overload? [PO]
Photos by Mary-Beth Blankenship & Nolan Knight.
SUNDAY
Lindi Ortega
Lindi Ortega is one of the most interesting and overlooked women working on the periphery of Nashville's country music scene. While Kacey Musgraves and Ashley Monroe get pop accolades and Nikki Lane builds a hipster, outlaw fan base, Ortega's noir-tinged interpretation of the genre stays under the radar as she continues to put out great records, like this month's Faded Gloryville. In her short Ink N Iron set she played several cuts from that new record and explained that the title track was inspired by watching Jeff Bridges' burnout musician character on Crazy Heart, wondering if she too would someday be puking out the back door of a bowling alley she is about to play in an attempt to scrounge up $10. The song isn't a rosy picture of the music industry and neither was this festival. The last time I saw Ortega was back in the winter at a packed-to-capacity 5 Spot, so like everyone else it was confusing and disheartening to see a singer I admire so much perform in front of such a sparse audience. Ortega still gave a full show for the couple dozen fans that showed, stomping across the stage in her signature red cowboy boots, not phoning it in like some of the others who realized what they were in for with the festival by the time Sunday rolled around. [JSa]
Mariachi El Bronx. Photo by Mary-Beth Blankenship.
Mariachi El Bronx
Big Ink N Iron bummer: I missed hardcore band The Bronx, who I haven't had a chance to see in years, on Saturday. Cool Ink N Iron redemption: their alter-ego, Mariachi El Bronx, were there to satisfy my fix on Sunday. Sure, it's not really the same (they're mariachi themed, costumes and all, as the name would imply), but still a lot of fun. 26 people in the amphitheater. Oh. Well, it's not even 5 p.m. yet, so I guess that makes sense?, I tried to reason. (Reason was futile.)
By Sunday, festival fatigue had seemed to hit. Attendance was down from the day before (so, like in the negatives I think? I kid, I kid), even the staff seemed thinning. I wandered over to Municipal Auditorium for the tattoo convention, a big part of Ink N Iron's DNA. Though under-attended, it was at least packed full of artists, many whom had traveled in, and plenty of tattoo enthusiasts were lined up to get fresh ink. They definitely got that part right. Maybe it's us?, I was forced to ponder. This has been going on without a hitch for quite a number of years in Long Beach. Maybe Nashville just doesn't have the community to sustain it. In all honestly, I loved the idea, and seeing all of the non-music stuff, as dismissal as their take seemed to be, had me at least rooting for the thing. [PO]
Wanda Jackson. Photo by Mary-Beth Blankenship.
Wanda Jackson
Wanda Jackson is a legend. In a just world, she would be more of household name, but, still, the 77 year old "Queen of Rock" and one time protege of Elvis was definitely in her element, attracting one of the best and most excitable crowds of the weekend. She should be on the main stage, I thought, though, finding a folding chair in the refreshingly air-conditioned Big Top Stage, which was actually more like a tent set up for pole dancing showcases, I understood why they couldn't subject the septuagenarian to the summer heat of Tennessee.
My third name seeing her, I definitely noticed that Ms. Jackson is looking a bit more tired these days, but she's still as spirited, enthusiastic, and talented as ever. Wowing the crowd with signature tunes like "Fujiyama Mama" and "Funnel of Love," along with popular covers of "Heartbreak Hotel," "You Know I'm Not Good," and more, Wanda reminded of us why she's such an important part of musical history, and her stories, interspersed between tunes, and told just like grandma's tales (if your grandma happens to be a pioneer female rock singer), made it all the more memorable.
Backed by the fantastic Ladybirds from Louisville, Wanda Jackson's set couldn't have been more perfectly suited for Ink N Iron's cultural vibe (she mentioned she's played the California incarnation a few times), and seeing her in person is always breathtaking. During her show, at least for a few minutes, I forgot about the downer vibe of the festival's final day and just let myself be swept away by wonderful music. [PO]
I completely agree with Philip that Wanda should have been on the main stage. She had a better turnout for her set than the acts that I saw perform on the main stage and people seemed more excited to see her than anyone else I got see at the festival. The sound in the tent at the Big Top Stage left something to be desired, but Wanda was hilarious with her jokes and anecdotes from sixty-plus years in the music business. She ribbed the aforementioned Ladybirds for not being able to get girls or spell their names ("they're from Kentucky") and made some sly remarks about cozying up with Elvis back when she toured with him as a teenage rockabilly singer. Jackson's set was definitely the best music of the entire event and it's a mystery why she wasn't featured more prominently in the lineup. [JSa]
When I made it back to Ink N Iron on Sunday (kept away most of the weekend by the other great shows that, in all likelihood, kept many others from buying tickets that particular weekend), I had to admit that even though it still seemed like the turn out wasn't great, I was really having fun. It was like having a nice festival all to myself. On Sunday, I could see how the big screens would be perfect for people to watch the music on while looking around at the car show and at the vendor tents on the lawn (granted, by the time I arrived there were only four cars left to look at in the show). Everyone who was at the festival seemed to be enjoying it. The music was great, there were good food trucks and vendors, and the stages weren't spread out so far to make it a miserable walk in the hot sun. Wanda Jackson was playing in the Big Top tent and it was clear that almost everyone at the festival was there to see her. She shook her way through classics and covers, telling stories throughout, even taking time to share her testimony about becoming a Christian, and proved herself to be possibly the sweetest person on the planet. Her backing band, The Ladybirds, were excellent and carried her seamlessly from song to song. [MW]
Black Joe Lewis. Photo by Mary-Beth Blankenship.
Black Joe Lewis and The Honeybears
Remerging onto the lawn, wandering by tents of rockabilly bands playing for less fans than I have fingers (I have ten fingers, just to clarify), past vendors packing up prematurely, past four lonely cars left of what was once a "hot rod show," I entered the amphitheater for a band I've heard praised but hadn't much listened to, Black Joe Lewis and The Honeybears. There were maybe two dozen others in attendance. Even security had pretty much called it a day by this point. They're all watching the end of Wanda Jackson, they'll be here soon, I assured myself. I was wrong.
Laughing at the "intimate" crowd, Black Joe Lewis and his band launched into an entertaining, if not a little unenthusiastic, set. Had I been more familiar with the material, I surely would have been a lot more plugged in, but the festival fatigue was getting to me, and I found myself spacing a bit, imagining being on the stage, how much of a bummer it must have been; please come back soon Black Joe Lewis, I'd love to see you in a club! [PO]
Black Joe Lewis and The Honeybears played to a tiny crowd in the amphitheater. By the time their set rolled around, security seemed to have finally stopped caring where anyone sat and even those of us with lowly lawn passes could freely sit in one of the many empty chairs in the front. Joe Lewis put on an entertaining set that never slowed down. While the lack of attendance, lack of any other bands playing, and the fact that most of the vendors were tearing down by this time, many people ran the risk of just going home. But their set was lively and enthralling, keeping you glued to their set, even if you didn't know the songs. [MW]
Sharon Jones and The Dap-Kings. Photo by Mary-Beth Blankenship.
Sharon Jones and The Dap-Kings
By the time the weekend's final act, Sharon Jones and The Dap-Kings, took the stage, the amphitheater had filled up marginally, but was still a sad sight to see greeting a modern soul legend. We were the only outlet who even still had a photographer hanging around (No Country's in it 'til the end, y'all). After an extended opening set from backup singers Saun & Starr (The Dapettes), who just released their own album with the hyper-talented Dap-Kings, Jones herself emerged, the soulful, sultry powerhouse that she is.
Sharon sounded flawless, because of course she did, and, for the first time all weekend, her bandleader even managed to draw the entire crowd down to the pit (a spot where most weren't technically supposed to be, but hey, no security no rules, right?), and, making the best of a less than ideal situation, had the small but fervent group of fans up close and dancing hard. That was my cue to exit. You were weird, Ink N Iron, but I hope we can chalk it up to growing pains and figure out a way for you to return next year. Not likely, if we're being honest, but hey, I had fun. [PO]
I returned to the festival to see the end of modern soul queen Sharon Jones' headlining set and she was amazing, but it just felt like the festival didn't deserve her. This was overall how I felt anytime I saw anyone good at the event; my most overwhelming sentiment towards the artists was "you deserve to be playing in front of more people, somewhere better." Jones is perhaps one of the last of the great soul singers, and the show benefited from the lack of security allowing the last few revelers to get up close, but I felt like she should have been performing in front of legions of fans who appreciated her talent, rather than the last few confused stragglers at the weirdest festival ever. [JSa]
After a few songs from Sharon King's backup singers, who she calls The Dapettes, but who just released an album of their own under the name Saun & Starr, Sharon Jones came out to a small, but excited audience. Her band had convinced the audience to come down toward the stage, and everyone was up on their feet and moving. The modern queen of soul was thrilling to watch, as always. It's impossible not to be fixated on Jones when she's onstage. You're constantly wondering what she'll do next and she never disappoints. Her headlining set was a fantastic way to end a new festival. While Ink N Iron had lots of positives, including great acts, the overall execution seemed to be lacking, as did the understanding of the Nashville market by the festival organizers. While Nashville isn't Southern California, getting to experience the tattoo and car culture made for a fun weekend event. With lots of changes made from lessons learned this year, I'd love to see a reworked version of Ink N Iron return in the future. [MW]
Photos by Mary-Beth Blankenship.
_
[JL] Jackson Lord
[JSa] Jacqui Sahagian
[LS] Lauren Strange
[MW] Meagan Whitney
[PO] Philip Obenschain
[RR] Rob Rufus