Photo by Stacie Huckeba.
Dolly Parton
The Ryman Auditorium; Nashville, TN
July 31, 2015

Review by Philip Obenschain (@pobenschain). Photos by Stacie Huckeba.
Growing up in Shenandoah Valley, amidst the Blue Ridge Mountains, I think country music was always in my blood, whether I took to it in childhood or not. Raised on a steady diet of Motown, classic rock, and late '90s alternative and pop, which gave way to punk, metal, and anything else I could get my hands on in my teens, it wouldn't be until early adulthood that I really gravitated towards the country, folk, and bluegrass greats, realizing how much heritage, influence, and incredible songwriting came from the likes of Johnny Cash, Loretta Lynn, Hank Williams, Emmylou Harris, Wanda Jackson, Willie Nelson, and countless others. A child of the '80s who grew up in the '90s, I don't remember I time when I wasn't aware of Dolly Parton, whether it be for her movie roles, her larger than life image, or for her numerous, numerous chart-topping singles, which undoubtedly crept out of the country world and into my early consciousness. Rediscovering classic albums like Jolene and Coat of Many Colors in adulthood, Dolly went from being a famous, well-branded, almost country caricature in my mind, to one of the most influential, gifted, and inspirational songwriters of our generation (and I say our, because her relevance has hardly seemed to skip a single decade, with other 3,000 compositions, 110 career charted singles, and over 100 million sales, making her one of the most prolific and successful songwriters in history)
A musical great, whose talent truly puts her in a league of her own, genre and gender be damned, Parton is one of those performers I honestly never thought I could, much less would ever see in person, despite having lived in the same city as her for several years now. My pessimism wasn't unfounded; until last week, the celebrated singer hadn't played a proper Nashville show in 13 years. News of not one, but two nights at the legendary Ryman Auditorium, the only place I could honestly dream of seeing Dolly in Music City, abruptly sprang up just last month, and, through some sincere miracle, considering we have "No Country" right there in the title (we love classic country, and good country, and pretty much everything but that CMT scene, I promise), I was invited to bear witness to the first performance, which took place last Friday. Read on for my account of what was, without a doubt, one of the most inspiring, jaw-dropping, and utterly transcendent shows I've ever seen, and check out some photos so graciously provided by Stacie Huckeba.

Dolly Parton. Photo by Stacie Huckeba.

I would be remiss if I didn't first explain the reason this magical event came to be. Presented by the Dustin Wells Foundation, Friday evening's performance was a benefit for the W.O. Smith School of Music (Saturday's show, which was seemingly identical in most every way, benefitted the Opry Trust Fund). Settling into my seat early, anxious to see Dolly, I was greeted by organizers and representatives from both the charitable foundation the local music school, who proceeded to explain their cause. After the tragic loss of a young man named Dustin Wells in 2005, his family and friends established the Dustin Wells Foundation in his memory, and, for the past eight years, have been hosting their annual Gift of Music event, for which Dolly has been a strong supporter. The W.O. Smith School of Music, established in 1984, provides affordable, quality music instruction to hundreds of students from low income families. Several of these students actually had the honor of opening the show, performing a couple of fantastic covers with skill beyond their years. You can find out more about the school and donate to their cause right here (graciously, Dolly opted to play for free for the benefit, and even hosted meet and greets ahead of time for high-dollar donors).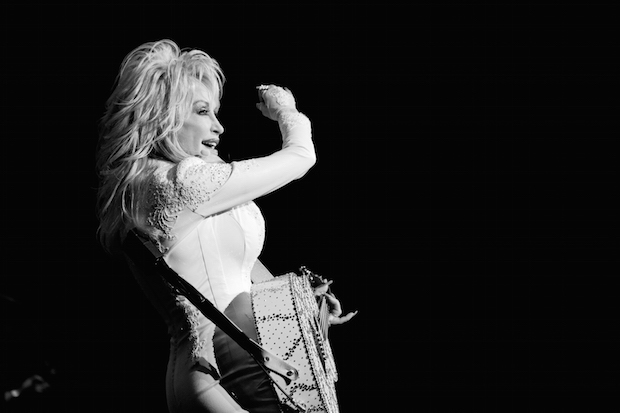 Dolly Parton. Photo by Stacie Huckeba.

Though always eager to be informed about a great cause, by the time 9 p.m. rolled around, I was getting antsy. And so was Dolly, apparently, joking about how waiting around backstage so long had made her thirsty, then, following a swig of water, proclaiming "I actually wasn't even thirsty. I just saw Cher drink water on stage once;" the first joke in an evening chock-full of them. Her entrance was otherworldly; introduced by host from WSM, she emerged bathed in light as the curtains drew back, a shining silhouette with an uncontainable voice, launching into powerful ballad "Light of a Clear Blue Morning." Stepping into the spotlight, the enigmatic singer, decked out in all white, sequins shining, petite in frame but enormous in presence, set the tone with newer tune "Backwoods Barbie," a self-referential single making fun of her own image, which she describes as "cheap," but, to her credit, has become iconic. A tall, slender man, wearing a cowboy hat and dressed in black emerged, strapping a bedazzled acoustic guitar to her shoulders. Her set designer, as he turned out to be, is the only one tall enough to put on her guitar without messing up her hair, she explained, pausing to flirt with him as a segue to classic "Why'd You Come in Here Lookin' Like That ."
Utterly stacked with hits as it was, the evening, billed "Dolly Parton: Pure & Simple," was a total balance of nostalgia, career retrospective, humor, and storytelling. Witty, endearing, and quick, Dolly set up most every tune with a story, some humorous, such as her husband's infatuation with a local bank teller, which led to her best-known single, "Jolene," and some serious, reminiscing about her home life, the challenges of growing up in poverty, and the perseverance of family. Parton's jokes landed with the intricacy and punch of a standup comedian; clearly, she's told these stories a few times before, but, still, her timing is impressive, and just helps enhance the whole package of a performer that she is. Though not necessarily chronological, the show was loosely compartmentalized in a thematic way, and encompassed literally every song I could have ever hoped for (and some I'd even forgotten about, but was elated to hear). Totally in service to her fans, many of whom were familiar faces from the country world, and the rest, men, women, and children from all walks of life, Dolly commanded the crowd, instructing us when to sit, stand, and sing along, and balancing out her stories and humor with saucy quips, dirty jokes, and genuine appreciation for the career she's been afforded, one she says she dreamed about her whole life.
Dolly Parton. Photo by Stacie Huckeba.

I knew that Dolly Parton was an incredibly talented musician, but I wasn't prepared for how unbelievable she was on every level. The showmanship and expert performance routine was there, absolutely, but her sheer technical skill, the real backbone of what makes her so great, was unbelievable. Racking my brain, I honestly can't think of a single performer I've ever seen (and I've seen thousands) with her versatility; aside from her powerhouse of a voice, which, even at her age, sounds effortless, Dolly played guitar, banjo, pan flute, harmonica, harpsichord, and dulcimer throughout the evening, with such an automatic precision yet instilled passion, that you'd think she could do so in her sleep. The best comparison I can make, and bear with me here, is Prince: small, shiny, energetic, and versatile, Dolly Parton floats around the stage with an unrivaled effortlessness, that truly must be experienced live to fully appreciate. Not alone, however, she received backing from some longtime collaborators, keeping the evening minimal, while still filling out her material to a full degree of familiarity (piano, bass, and backing guitar were the most common setup).
After a block of captivating hits ("Jolene," "Coat of Many Colors"), a tour of her home life, upbringing, and family though the lens of nostalgia ("Smokey Mountain Memories," "Applejack"), a block of songs fixated on blue ("The Grass Is Blue," "Blue Smoke"), and two loosely themed medleys (the first, about taking flight, the second, songs about fire, ending with a brief snippet of Alicia Keys' "Girl on Fire"), Dolly busted out the drum machine, strapped on the electric guitar, and took us home with the most unexpectedly rock and roll spirit I ever could have conceived of at a country show. Eliciting some very impassioned singalongs, Dolly reinforced her status as a legend, energizing the Mother Church with flawless performances of mega hits "Islands in the Stream" and "9 to 5," only to conclude the evening with her passionate, timeless tune "I Will Always Love You." Not just one of the greatest songwriters and performers in country music, Dolly Parton is a solid contender for the greatest living performer, bar none, and the first her latest set of shows, certainly the best concert I've ever witnessed at The Ryman, will forever stayed ingrained in my soul as something of legend. Needless to say, no matter your musical upbringing, no matter your age, no matter your background, if ever you have the chance to see the great Dolly Parton, you will never forget it.
Dolly Parton. Photo by Stacie Huckeba.
Some stray observations:
-On her love of nitrous oxide: "I do some of my greatest thinking while Dr. Wells [the dentist who runs the  Dustin Wells Foundation] is drilling my brains out." Needless to say, things got R-rated quick.
-After her first royalty check, Dolly offered to buy her mom a mink coat. In response, her mom said "Mink coat? Where in the world am I going to wear that? Just give me the money!" She did.
-Explaining how she got her look, Parton told stories about her rare trips into town as a child, growing up in the Smokey Mountains. She would always spot the town prostitute, and borrowed her style, which she adored. Backwoods Barbie was born (much to her Pentecostal preacher grandfather's horror).
-Introducing "The Grass Is Blue" – "I'm no Norah Jones, but it's my song so I'll play it if I want to."
-Clearly close fiends with her longtime bandmates, Dolly told stories about eating nachos and drinking margaritas in the front of their bus, where they wrote "Do I Ever Cross Your Mind." After a stellar a cappella version of the song, they showed off a little game they used to play, mimicking a record played at 78rpm, and singing in fast, high-pitched voices (pretty flawless impression too).
-After strapping on the guitar and switching on the drum machine: "Now it's Dolly 'Loud & Stupid.'"
-Dolly Parton is seriously just the coolest. What I wouldn't give to sit around and listen to her tell stories all day.
Dolly Parton. Photo by Stacie Huckeba.
_
Setlist:
Light of a Clear Blue Morning
Backwoods Barbie
Why'd You Come in Here Lookin' Like That
Jolene
Precious Memories
My Tennessee Mountain Home
Coat of Many Colors
Smoky Mountain Memories
Applejack
The Seeker
The Grass Is Blue
Blue Smoke
PMS Blues
Do I Ever Cross Your Mind
Little Sparrow / If I Had Wings
Baby I'm Burnin' / Something's Burning / Great Balls of Fire / Girl on Fire
Two Doors Down
Here You Come Again
Islands in the Stream
9 to 5
I Will Always Love You
_