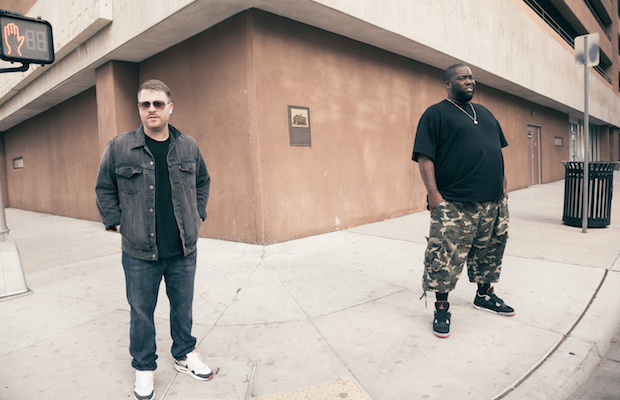 Did you catch that epic Run the Jewels set last weekend at Bonnaroo? If so, then you're surely chomping at the bit to see them again as soon as possible. And, if not, then you're really due for some killer, alternative hip hop in your life. Following incredible outings at Exit/In in 2013 and 2014, and, like clockwork, the duo have announced their Nashville return, this time at Marathon Music Works on Oct. 5 with buzzworthy new artist (and Beyonce producer) Boots! Tickets are set to go on sale this Friday, June 26 at 10 a.m. CDT, but, since we're so excited for this one, we'll also be giving away a pair! Read on for details and enter for a chance to win below!
RUN THE JEWELS
Fresh off an explosive debut at Bonnaroo (look for photos and coverage very soon), Run the Jewels are, without a doubt, one of the hottest acts in hip hop right now. Met with instant critical acclaim for their near perfect eponymous 2013 debut, the duo, made up of Atlanta rapper Killer Mike and New York rapper/producer El-P, really blew up after last year's game changing Run the Jewels 2 (we're told RTJ3 will arrive in 2016). Combining fresh production, raw talent, socially and politically charged lyrics and imagery, and a fun, no frills approach to performance, Run the Jewels are one of the best and most important acts in today's hip hop scene, nabbing audiences in unorthodox places (they opened for Jack White at Brooklyn's Barclays Center), and just generally leaving fans and critics elated with their every move. We caught both of their incredible outings at Exit/In in recent years, and can't wait to see them graduate to the Marathon stage this fall!
BOOTS
When Beyonce is your claim to fame, you know you're on the right track. Initially signed to a publishing deal with Jay-Z's Roc Nation label, Jordy Asher, under the stage name Boots, produced the majority of Beyonce's surprise 2013 self-titled album in secret, quickly rising to critical acclaim upon its release. Using this platform to kickstart his solo career, Boots spent last year teasing a string of solo releases, eventually dropping his proper debut EP, Motorcycle Jesus, earlier this year. In addition to Beyonce, his production and writing credits include Run the Jewels and FKA Twigs, and he's already appeared alongside RTJ on Letterman and solo on Fallon. Needless to say, you don't want to miss out on this crazy talented rising artist!
_
ENTER TO WIN TICKETS
Enter to win tickets by filling out the form below. Must be 18+ to attend. After you have entered, there will be the option to share this contest via social media. For each person that you refer to the contest, you will receive an additional entry. If you experience any trouble with the contest widget, or have any questions, feel free to email us at [email protected].
Winner will be announced Monday, July 6 at 12 p.m. CDT, and will receive one pair of tickets. Good luck!
[contesthopper contest="57041″]
_
Run the Jewels and Boots will perform Monday, Oct. 5 at Marathon Music Works. The show is 18+, begins at 8 p.m. (doors at 7 p.m.), and tickets are available for $20-23 beginning Friday, June 26 at 10 a.m. CDT.