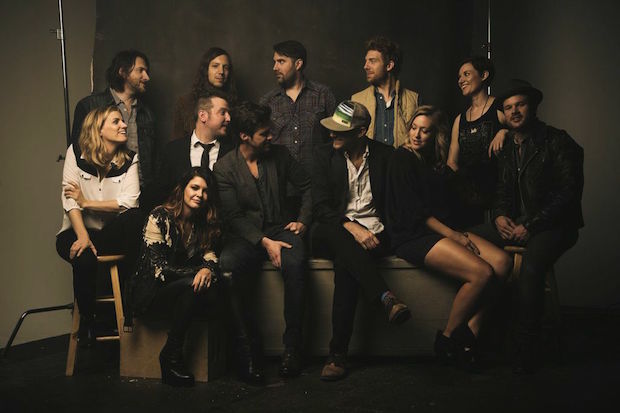 Ten Out of Tenn
The Ryman Auditorium; Nashville, TN
April 24, 2015
Review by Beth McAllister
History permeates from The Ryman Auditorium; from the church pew seating to the grand, ornate feeling of the music hall to the simplicity of the world famous stage. Artists have vied for a spot on The Ryman's legendary stage for decades, and concerts have impacted the course of history in this sacred place.
To be able to witness one such concert was moving and intense. Ten Out of Tenn, the collective of local artists who come together in a show of support for one another's music, celebrated their ten year anniversary at The Ryman on last night. We were lucky enough to witness the show that had the crowd roaring with cheers at every twist and turn, and we're hoping that if you weren't able to be there, we can successfully describe just how powerful it really was.
"Nostalgia" was the first word that came to mind when the Ten Out of Tenn show first began at a little past eight o'clock. The lights turned low, the crowd was silenced, and a video began to play on a projector screen. It began with one of the artists, Tyler James, playing a familiar tune on his trumpet – the army wake up call. The people around him in the video start to laugh, and suddenly the video takes a more sweet, somber turn. Soft music begins to play as various artists begin to talk about what Ten Out of Tenn has meant to them. How when they're on the stage, they're not thinking about how best to market themselves or their next album. They're thinking purely about the music, and that is what Ten Out of Tenn is all about.
As the video came to a close, three men came out onto the stage. A drummer, then a bassist (who was K.S. Rhoads, as cheering crowds alerted us to) and finally, former Ten Out of Tenn member Gabe Dixon.
Dixon slowly began to play his well-known song "All Will Be Well" to a hushed, awed crowd, and towards the end of the song we saw movement. Every single member of Ten Out of Tenn meandered onto the stage and began to sing along to the charming tune much to the delight of an eager crowd.
Just the beginning shook us to the core. It was powerful, intense, and gave light to just how important this event really was.
Each artist began to take their turn playing a song, and as they did so the true meaning of Ten Out of Tenn emerged. Matthew Perryman Jones took the stage first, and various artists from Ten Out of Tenn immediately took up instruments or placed themselves behind microphones to sing backup. It gave us chills to see these performers show us the real meaning of support. To play one another's music with enthusiasm, they displayed how they are genuine fans of each other.
The music was delightfully varied with each musician's particular taste and style emerging. Andy Davis kicked things up a couple of notches with a more pop/rock feel. Andrew Belle followed Davis and continued to keep everyone in the crowd moving with his upbeat tunes. Amy Stroup appropriately picked up an acoustic guitar because, as she said, it seemed right to play an acoustic in The Ryman.
Trent Dabbs, one of the founders of Ten Out of Tenn, took the stage next, followed by a very happy, eager Katie Herzig. K.S. Rhoads, the bassist for Gabe Dixon's opening song, had his fellow artists and the crowds dancing right before Jeremy Lister calmed us all down with a slow, moving melody. He was the only artist to appear alone on stage, and he impressed the audience at the end of his song by stepping back from the mic to sing the last line of his song without the aid of audio equipment, his voice ringing through the old music hall.
Erin McCarley followed Lister and promptly stated, "Well how am I supposed to follow that? I'm just going to sit Indian-style on the stage…" before leaping into a new tune that had her dancing happily across the wooden platform. Australian-native Butterfly Boucher took the stage after McCarley and dedicated her song "5678" to a security guard who apparently favored her above the other artists, and she playfully suggested that he rush the stage naked amid many giggles from both the artists and audience. Tyler James wrapped up the first half of the performance with a song that he dedicated to his parents, to whom he claims he owes so much for all of their support and love over the years.
The shock and awe of the show wasn't even over yet, though. When the intermission ended, we knew each artist was planning to play a second song, but before they even did so several guest artists were announced. Paper Route, Kyle Andrews and Sarah Siskind, all former members of Ten Out of Tenn, took the stage in turn to play their hearts out in honor of the group they had previously been with.
When Trent Dabbs next took the stage after Siskind, this time it wasn't to play. It was to thank us all for the loving support, to confess that he was shocked that Ten Out of Tenn had lasted ten years, and express to us the firm belief that in no other city in the world would this collective be able to exist.
With these words, we realized that Ten Out of Tenn is not just a "band" or even just a collection of individual, multi-talented artists. It's a rite of passage for musicians here in Nashville. It's a way of recognizing the true talent that Nashville has to offer, and most of all, once you are in Ten Out of Tenn, it becomes so imprinted on your heart and soul that you never really leave it.