Damien Rice. Photo by Sundel Perry.
Damien Rice w/ My Bubba
The Ryman Auditorium; Nashville, TN
April 1, 2015
Review and photos by Shawn Jackson of Sundel Perry Photography
We got the chance to see Damien Rice's sold out show with folk duo My Bubba last Wednesday at The Ryman. Rice, an accomplished Irish singer-songwriter, multi-instrumentalist, and producer, clearly has a massive, enthusiastic following in Nashville, and My Bubba, the Icelandic/Swedish outfit who opened the night, were a very pleasant new discovery and no doubt earned a lot of new fans. The house was packed and boiled over with enthusiasm all evening.
Check out below for our full review and photos. You're gonna want to see these photos. The lighting was nuts.
My Bubba. Photo by Sundel Perry.
Contemporary folk duo My Bubba took the dimly lit stage, and stepped right to the microphone sans instruments. They began with synchronized clap dancing to kick off the night with their a capella tune "Dogs Laying Around Playing." Their gentle, jazzy voices wove together and apart throughout each song, sometimes in harmony and sometimes singing different parts entirely. It was hauntingly beautiful and kept us leaning forward in our seats the entire performance.
While My is Swedish and Bubba Icelandic, they sang primarily in English. It would have been difficult to imagine a Germanic language sounding so pretty, but when they did one song in Icelandic it was angelic. Some songs had just guitar accompaniment, and occasionally they brought in the table harp, which was a new one to us. The set was refreshingly different, yet not so unfamiliar as to make it uncomfortable. We will definitely have to keep an eye on this duo.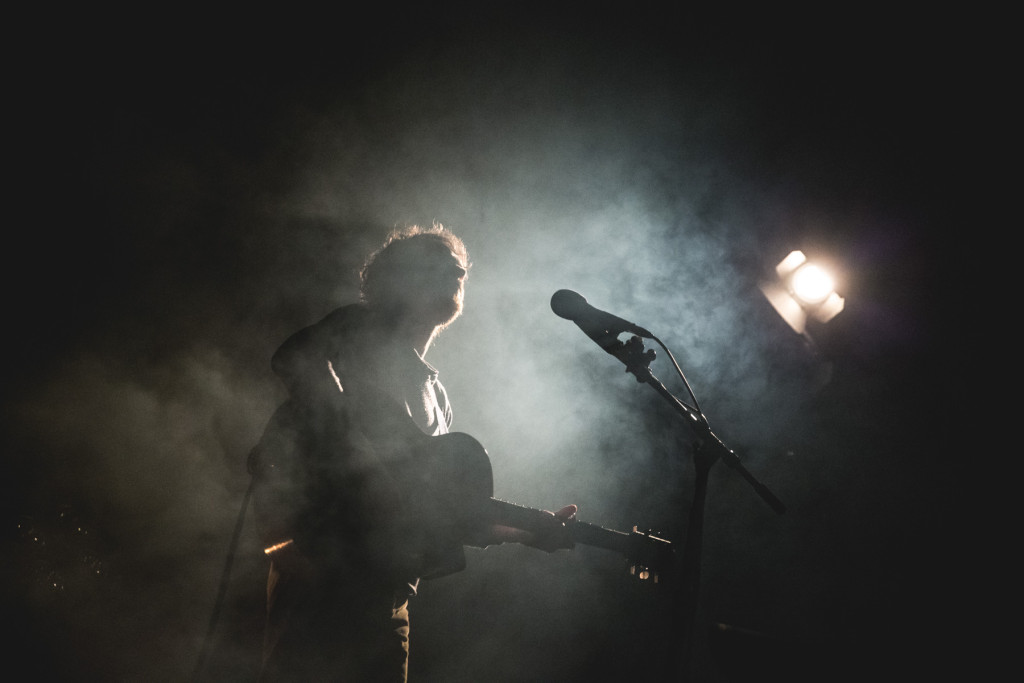 Damien Rice. Photo by Sundel Perry.
When we had first gotten to the venue, we noticed an intricate backlighting setup on the stage that got us pretty excited. By the time Damien Rice came out, the pews of The Ryman were packed and the smoke machine on stage was going full throttle. The stage lights were just barely making it through the smoke as he kicked in to the first song. The lights alternated throughout the night, but they always maintained a low, smoky look that matched Rice's somber songs, but contrasted starkly with his massive energy on stage and the crowd's stadium-like roar between songs.
Damien Rice. Photo by Sundel Perry.
Rice played solo, just a man and his guitar for the whole night, except for one song in which he walked over to the pump organ for the intro. His charisma and energy filled the entire room though. He engaged the audience nonstop, whether it was coaxing different sections to sing parts (during "Volcano") or sharing funny quips about life and relationships between songs. Then, on the third song into the encore, a choir of voices leapt out from the dark back side of the stage. A few moments later, the lights faded in, and we could see a large choir joining in the refrain. It was an unexpectedly huge ending to a great show.
—