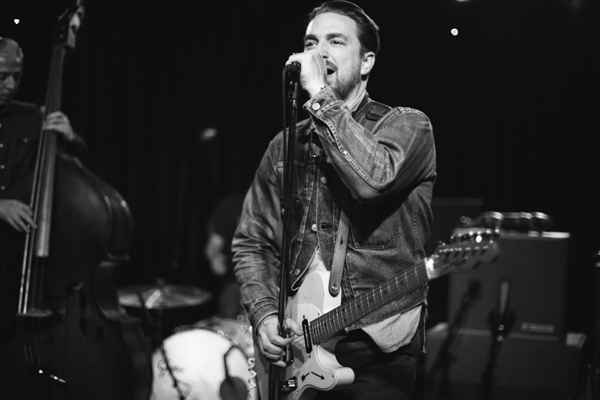 JD McPherson. Photo by Mick Leonardi.
JD McPherson
w/ Dylan Pratt
Mercy Lounge, Nashville, TN
February 20, 2015
Review by Jacqui Sahagian. Photos by Mick Leonardi.
Despite an official warning from the mayor and an ice storm the likes of which Nashville hasn't seen in years, on Friday night the Mercy Lounge was packed with a nearly sold-out crowd of stir-crazy rockabilly fans who braved the elements to check out vintage rocker JD McPherson, whose sophomore album Let the Good Times Roll has garnered rave reviews. McPherson's live show with his longtime quartet has also been widely praised, and did not disappoint those of us who drove painfully slowly on the hockey rink that was Music City to see them perform. The Tempe, Arizona based folk-pop singer-songwriter Dylan Pratt opened.
If you love the original R&B artists of the 1950s as opposed to what counts as R&B on the radio these days, then McPherson is definitely an artist who should be on your radar. Check out our full review of the show, plus photos from our own Mick Leonardi after the jump.

JD McPherson. Photo by Mick Leonardi.
The weather on Friday night was so bad, and forecast to get worse, that there was some question as to whether the show would go on at all. Venues including the Bridgestone Arena and 3rd & Lindsley canceled their events for the night, but Mercy Lounge sent out an email telling me that the show would go on despite the ice. Being from Michigan, I'm somewhat used to being forced to drive under icy conditions, but I predicted that the crowd would be sparse despite the show being nearly sold out, as I thought people would take a loss on their tickets in order to stay safely at home. But after a week of being snowed in, it seemed that Nashvillians were coming down with cabin fever.
As the folky Dylan Pratt took the stage, the crowd was still fairly thin, but his gorgeous voice kept them attentive. I'm not sure exactly how old Pratt is, but in terms of looks and stage presence he barely appeared to be out of his teens. While playing, it was clear Pratt is hugely musically talented with a beautiful voice well-suited for the melancholy folk-pop he writes. Pratt has a gorgeous and strong voice, but it has no grit or experience to it, and the same could be said for his bittersweet songs about love and heartbreak. One thing I did appreciate was that his fingerpicking acoustic guitar playing showed he understands folk music traditions, which is something one doesn't always find in these sensitive pretty-boy singer-songwriter types. Overall Pratt comes off like a well-trained and very talented music student who hasn't quite had the life experience to make compelling music. Should he acquire himself a cigarette habit and a penchant for evil women and come back in a couple years, I'd be excited to see the results.

JD McPherson. Photo by Mick Leonardi.
By the time McPherson came onstage, the venue was, to my surprise, packed to capacity. McPherson plays with a quartet he's been with for years consisting of a drummer, a standup bass player, a pianist who alternates between piano and organ, and a tenor sax player who occasionally switches to electric guitar and baritone guitar. McPherson himself sings and plays guitar, and has a refreshingly relaxed stage presence that allows for some banter with the crowd without feeling like he's trying too hard or looking like a dick, which can be difficult to pull off. Watching the five musicians jamming in the vein of '50s rockabilly and '60s R&B was a real treat. They were clearly having a great time playing music together and their joy was infectious. I tend to end up at a lot of indie shows, so it was a nice change to see young people dancing at a show rather than standing stock-still. The performance overall was extremely tight, but felt very informal at the same time. It was like watching friends jamming for a house party in your living room, if your friends were intuitive and well-experienced musicians in a '50s throwback act instead of the bad white boy indie band that your friends actually have.

JD McPherson. Photo by Mick Leonardi.
"I heard the mayor told you not to come tonight. I admire your civil disobedience," McPherson said during the set, which was met with applause. His second record just dropped this month to great reviews that praised his ability to pay homage to the artists of the '50s and '60s he clearly loves while staying fresh enough to avoid feeling like a cover act. The crowd contained a decent chunk of fans as people sang along even to songs on the brand new album. Highlights of the set included the new songs "Let the Good Times Roll" and "Bossy," as well as his previous hit "North Side Gal" and the long jam session at the end during which McPherson introduced the band and each member got a chance to show off. McPherson and his band are actually set to play "Let the Good Times Roll" on one of the final Late Show with David Letterman performances tonight if you're interested in checking him out. Catching some danceable, vintage rock and roll was certainly a great way to blow off the cabin fever last weekend.