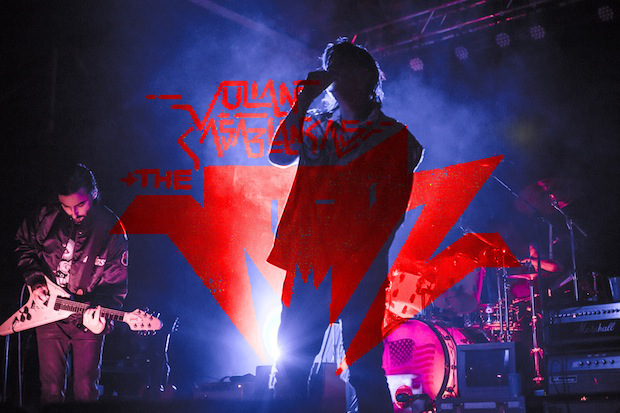 Julian Casablancas & The Voidz. Photo by Matt Cairns.
Julian Casablancas & The Voidz, and Mr. Twin Sister 
Marathon Music Works, Nashville, TN
October 21, 2014
Review by Jake Wyatt
Photos by Matt Cairns
As I laced up my Vans Old Skools Tuesday night, the young skater punk in me was thrashing around in excitement knowing we were about to be in the same room as the voice behind songs like "Juicebox" and "Reptilia" by The Strokes. Julian Casablancas has teamed up with a powerhouse of musicians to form The Voidz, who create a fusion of true punk guitar riffs and synth-heavy electronic beats. These monster musicians brought this young, but thin, crowd into the spirit of halloween with their harmonic discord, deep green stage lights, and eerily distorted vocals. Julian Casablancas is still the living legend he has always been, but see where he is taking his talent after the jump.
It was an eerie night Tuesday at Marathon Music Works with bands in the line up such as Mr. Twin Sister and Julian Casablancas + the Voidz. "This old Marathon building always reminds me of a scene in a zombie movie," I tell my best friend, and top five pick of people I would want with me when the undead walk the streets. Little did I know that this foreshadowing was not meant for the distant diseased future, but more for the night we had in store. With the season of the year perfect and the venue basically a movie set the bands brought vibes from ghoulish to monstrous undead.
Mr. Twin Sister. Photo by Matt Cairns.
Mr. Twin Sister was the first band to take the stage with Andrea Estella becoming an instant crowd favorite with her all white ghostly persona. The band formerly known as just Twin Sister is from Long Island, New York, and uses their east coast influences in producing four albums under both names. With the driving and dancing 80s rhythms of Eric Cardona (Guitar, Vocals), Gabe D'Amico (Bass Guitar), and Bryan Ujueta (Drums) as the fuel, Estella's voice came out of its shell, with surprise to us all, with her vast dynamics and fun loving accent. The musical talents of Eric Cardona were revealed in tracks like "In The House Of Yes" where he played a minimum of three instruments in six and half minutes. From the powerful 80s pop of "In The House Of Yes" the band can slow things down and ease into softer, yet funky, ballads like "Blush" off their self-titled effort from 2014. Be on the look out for Mr. Twin Sister to gain a solid cult following carrying them to much bigger things.
Casablancas and the boys entered the stage after making us wait a good twenty minutes, just enough time for the crowd to start giving encore calls to the innocent sound guy. I felt bad for the poor soul who was behind all those dials being ridiculed by the crowd like a salem witch on trial in colonial Massachusetts. The Voidz filled the stage one by one, first was Amir Yaghmai who has done guitar and violin work for musical acts such as Baths "Obsidian" and the self-titled Matt Costa album. Next was the two synthesizer players Jacob "Jake" Bercovici, who also took up the bass for song or two, and Jeff Kite who has been a major part in Casablancas' solo career as a staple member of the group. Another staple in the line up is Alex Carapetis who sat behind his drum set as he has done for many bands including Nine Inch Nails and projects like Macy Gray's "The Way". The forth member to enter the stage was the most visual of the band members, guitarist Jeramy "Beardo" Gritter. Gritter has been a part of such bands as Whitestarr and Shwayze doing composing and guitar work. These boys were set and ready, and the much anticipating crowd began to scream, as they kicked off this night with the track "Father Electricity" from their only released work Tyranny of 2014. With the lights down and only a few colored lights blinding us from the stage we could barely make out Casablancas on stage except for his voice, that was similar to The Strokes. The only difference in this vocal performance was his use of heavy distorted vocals. Wielding dual microphones Casablancas never shorts us with his attitude and persona of the heartbroken and angry masses, and even told the crowd, "Vocals up? Lights up? Lights up, lights off? Hell it's all the same." Although his vocals were still strong and powerful, Casablancas stood hunched over and when he stood tall he was a lumbering zombie on stage rarely looking up to greet the crowd.
Julian Casablancas & The Voidz. Photo by Matt Cairns.
The two members of The Voidz that were the most mobile and active were "Beardo" Gritter and drummer Carapetis. The right side of the crowd was in luck to find a spot close to Gritter as he displayed his talent in what seemed to be the lone beam of white light shooting into the air like a signal beacon. Watching Gritter perform tracks like "Business Dog" and "M.utuallly A.ssurred D.estruction" was nothing short of amazing talent, with a hint of mad scientist that made this October night that much spookier.
Carapetis was a tireless spectacle behind his cage of acoustic drums and electronic triggers, even picking up the bass guitar for parts in the track "Human Sadness." This was the moment that I knew this band was not made of any mortal musicians, because at this point all but two members have played two, if not three, instruments. Thrashing around and hitting everything in sight Carapetis was controlled by anxiety that made me think he could never stop even if he fought his hardest. By far the most active Void, he was spot on not missing a strike of his sticks or a crash of cymbals while still maintaining the vibe of eerie, angry, and maladjusted to society.
Walking out of this show we felt as if we should look over our shoulders, and wondered what our roles were in the living horror movie environment where we had found ourselves. The Voidz and Mr. Twin Sister had given us the "It's too good to be true" feeling that comes just before the killer jumps out and slashes his revenge, but we made it home safe and sound. Our speakers will continue to blare Julian Casablancas + The Voidz this Halloween season and, honestly, longer because of the talent The Voidz bring along with Julian Casablancas reputation for great punk music. The young skaters in us were ecstatic to see Casablancas, but they were not as pleased as the young adults we've become that truly appreciated the matured and cultured project that is Julian Casablancas + The Voidz.