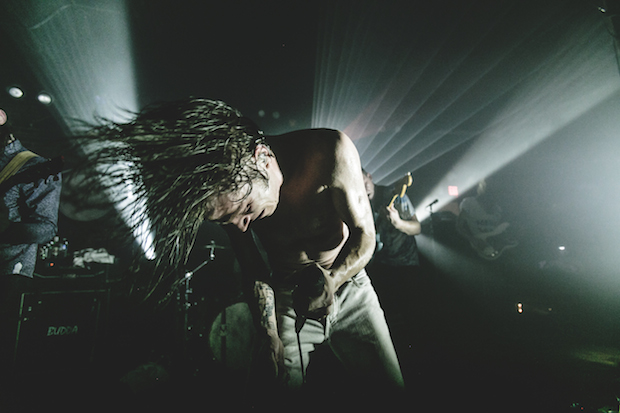 Cage The Elephant. Photo by Jake Giles Netter.
Cage The Elephant with Plastic Visions
Mercy Lounge, Nashville, TN
June 24, 2014
Photos by Jake Giles Netter.
Mercy Lounge has been the king of the undersized show this year.  First, they hosted a Sirius Radio sponsored concert featuring The Black Keys, and, then last week, they again capped the 500 person venue with an intimate performance from Cage The Elephant along with Plastic Visions.  We were there, along with kick ass photographer Jake Giles Netter, and we're reliving the insanity below.
Local heavy punksters Plastic Visions started the night off with an already enthusiastic crowd.  At this point, we've seen PV perform in a number of different settings.  Sometimes it is a perfect pairing, and sometimes they end up on bills that seem too poppy for their loud raucous style.  On Tuesday night however, they were the perfect opener for the maelstrom that was about to come.  Frontman Kane Stewart even commented that he didn't understand a Nashville crowd that was "actually dancing".  That sentiment may be true for most shows that come through here, but it was clear that this was not just another show.
During an extended set break, which likely was the coordination of the band's extended sound and lightning gear, the house PA spewed a surely Cage The Elephant inspired playlist featuring artists ranging from The Rolling Stones to Dr. Dre.  The already full room reached absolute capacity when the 80 or so friends of the partially local band came spewing out of the green room for the headliner's set, and the roars were deafening when the band finally made their way onto the stage.
They performed a varied set list including hits like "Spiderhead" from their newest release, Melophobia, to start the set off, and then backing it up with a performance of "In One Ear" from their self-titled 2008 debut which gave concern that the floor may not be able to take the punishment of 500 jumping fans.  As they continued to pour through an impressive hit parade, and rile fans up even more with numerous crowd surfs by band members, it brought us back to their Bonnaroo set not two weeks before that really brought the power of this band into clear perspective for us.
However, it wasn't always that way for Cage The Elephant.  They put in their time and took their licks.  Sure, it helped that a catchy ass track like "Ain't No Rest For The Wicked" helped to catapult them to where they are today, but it's their never give up mantra that has kept them there.  The moment that brought it all home for us when frontman, Matt Schultz told the crowd, "The first time we ever played here the room was so empty that I was spinning on my back in the middle of the room."
This is just another reminder that you never know when a Nashville band is going to break.  We weren't here when Cage started; but we've been here to see Wild Cub go from The High Watt to Lollapalooza; JEFF The Brotherhood go from The End to Coachella, and Diarrhea Planet from Nashville basements to Bonnaroo.  You never know who is the next to go.  That's the reason that you should get out to see live music, you should support 8 off 8th, New Faces Nite, and all of the other showcases that are happening all over Nashville each week.  I mean, Cage The Elephant played an empty Mercy Lounge years ago.  The Black Keys opened up as a no name blues rock duo at Slow Bar years ago.  You just never know what you are going to see.
By the time, Cage The Elephant wrapped up their sweat drenched set with a 500 person singalong of their hit song, "Come A Little Closer", we were pretty sure that our night was complete.  However, CTE had other ideas. They triumphantly returned to the stage for an encore that was primarily highlighted by several minutes of crowd surf shredding followed by a standing homage that silhouetted Matt Schultz against the massive lighting effects on the back of the stage.  It was a night to remember, and a reason that you should be excited to have a chance to see Cage The Elephant at Live On The Green this summer.