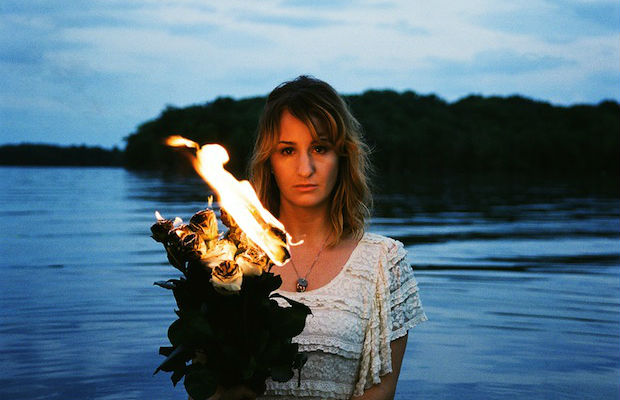 Yes Country For New Nashville. Her name is Margo Price.
Margo Rae Price. She'll take over your senses. The singer-songwriter, performer and badass front woman of Buffalo Clover (playing tomorrow at Tres De Mayo at Riverfront Park) and Margo and the Pricetags (playing tomorrow night at The Stone Fox) is a beauty. She's the kind of female that Robert Plant painted in his lyrics for "Going To California", "Someone told me there's a girl out there with love in her eyes and flowers in her hair."  She will trade a light for a cigarette, and if a bird shits on her brand new hat, she'll just laugh and smile saying, "It's good luck." On her left shoulder, she's adorned with ink inspired by The Birds of Rhiannon. "The birds were said to wake the dead with their song and to lull the living to sleep," she recites.
Margo grew up in a small farming town in Illinois where she remembers the closest town having a sign reading population 33. It is in the country of the Buffalo Prairie where her family circle lost their farm, a personal insight written in the lyrics of "All American Made" (Daytrotter session), "All the midwest farms are turning to plastic homes / My uncle started drinkin' when the banks denied the loans"
Piano lessons were her first introduction to music. She sang in church and the national anthem at football and basketball games. At the same time, she was (and still is) the kind of outlaw who crossed the state border to get a tattoo on her ass as a teenager (angel wings with a halo). In college, she studied dance (modern, ballet, tap) and theater with a minor in Spanish.
When she moved to Nashville, she worked in the city and suburbia, taking jobs anywhere from waitressing to roofing. She was Gretel in a production of Hansel and Gretel at the Belcourt and spent time as a dance instructor. "I taught dance lessons until I was 5-6 months pregnant" she says, "until they said no more pregnant tap-dancing!"
Her son Judah is now 3 and a half, an adorable child and twin of a brother who was tragically lost after two weeks of birth. "He's the best thing that's ever happened to me," she says with the warmth that only a mother can radiate, "we still tour but not as much just because I can't stand to be away from him."
She and husband Jeremy Ivey's creative fate was sealed after they fell in love with The Kinks. "We started a band called Secret Handshake with all political songs," she says. "We made a vow to not write any songs about love." Buffalo Clover was later born with the name inspired by Margo's roots. She says of their artistry, "it is a lot of metaphors and colorful songwriting…[with] many different styles and influences."
The perfect example is their song "Abaline," about a man named Charlie who finds money from "a coke deal that went bad" and meets a stripper named Lydia. "It's their whole story" she says, "and it doesn't turn out well." Buffalo Clover toured England and Spain last summer, making festival debuts on top of bars / club gigs. They rang in 2014 with a sold out show here in Nashville and have a sold out Bowery Ballroom performance with The Wild Feathers with a surrounding NYC tour on the horizon.
Margo plays drums, piano, guitar and "very bad mandolin," she says. "I can only play 5 chords on a mandolin but I can rock those 5 chords!" Being so charged with creativity and talent, it's no wonder a side project organically formed as another outlet for writing, co-writing and performing.
Enter Margo and the Pricetags, a name given by Derek Hoke. When it started it was supposed to be a supergroup," she says, "the lineup changes depending on people's tour." So far, lineups have featured Sturgill Simpson, Kenny Vaughan (Marty Stuart) Eric Whitman (Nikki Lane / Space Machine / The Lonely H) and Kevin Black. Their shows are in demand, shown in the continuation of gigs being booked without the band doing any outreach. An artist / musician's fantasy.
Emmy Lou Harris and Dolly Parton are two singers who have helped inspire Margo's own unique country vocals. Her true introduction to Dolly came in the gift of rewarding kindness and good karma when she and Jeremy opened their home to a stranger. "Somebody gave me a box set, a guy who I met at Dino's," she says, "he needed a place to stay."
Margo and the Pricetags' repertoire consists of both covers and originals such as "It's Not You, It's Me & Him" that "has a Tammy Wynette sadness to it," she says, "that's the best thing about country songs."
When Margo isn't tearing up stages, collaborating around Nashville, co-writing with lady pal Caitlin Rose, crushing souls with her cover of Albert King's "Everybody Wants To Go To Heaven, But Nobody Wants To Die" or writing short stories, she's living by two of her life  mantras: "Always do sober what you say you'll do drunk" and "Being a martyr covers a multitude of sins."
One of her favorite films is Pierrot Le Fou (1965) with the message, "Bleeding from a thousand wounds, he fought on alone, for he'd sworn not to retreat / As long as I'm me and you're you it's too much like fate / Countless centuries fled into the distance, like so many storms / Love must be reinvented / Real life lies elsewhere"
For Margo, elsewhere is the road with a bucket list including Bonnaroo, the Ryman and more overseas touring. She's rightfully inked "gypsy wanderer of the world" on her foot.
"I don't need 10 million baby, just give me one that works," she sings, "It's all American made."
"I just want to make enough money to pay for a babysitter per gig," she says.
More from Margo Price: Website | Buffalo Clover Facebook | Margo and the Pricetags Facebook | Buffalo Clover Twitter | Buffalo Clover Spotify