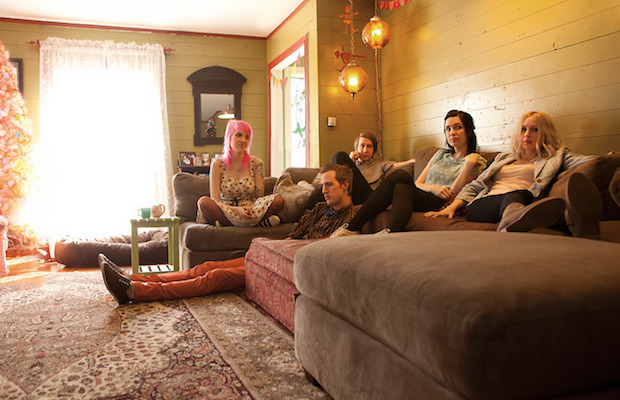 As we told you back in February, Texas indie pop outfit Eisley will kick off their latest U.S. tour, their first of the new year, TONIGHT at Nashville's own Exit/In. Out in support of their fourth full-length, last year's Currents, Eisley will receive support from sibling duo Merriment. Both groups are some of the most consistently amazing live acts in indie rock, and some of, perhaps, the most underrated songwriters making music today. It should go without saying, but we can't think of a better way to spend your Tuesday, so pick up your tickets here, and keep reading for a preview of the show.
EISLEY
Comprised of four siblings and their cousin, Eisley have been a band literally since childhood, and have been releasing amazing albums for nearly a decade. Following an explosive early bout of hype, the band faced a slight setback with a complicated major label dispute, but, newly returned to the indie world, recent releases such as 2012's Deep Space EP and 2013's Currents have showcased a liberated, renewed focus and some of the strongest songwriting of the group's career. Haunting, hypnotic, harmon-laden, and with an unparalleled knack for crafting smart, lingering hooks laced with deeply personal lyrics, Eisley are one of the most criminally under-appreciated bands in existence. Their live show is practically flawless, breathing to life the nuances and emotional depth of their music. Don't miss this opportunity to see them live.
MERRIMENT
Made up of Christie and Collin DuPree, the younger siblings of Eisley, Merriment have spent the last several years honing a knack for crafting their own flavor of dense, lush indie pop. Typically more subbed and avant-garde, Merriment share their siblings' ear for melody, hypnotic delivery, and skill of emotional depth. Often performing as just a duo (as they likely will this evening), Merriment's recordings are fleshed out with a full band, and their upcoming full-length, Sway, is one of our most-anticipted releases of the spring.
Eisley and Merriment will perform TONIGHT at Exit/In. The show is 18+, begins at 9 p.m. (doors at 8 p.m.), and tickets are available for $15.