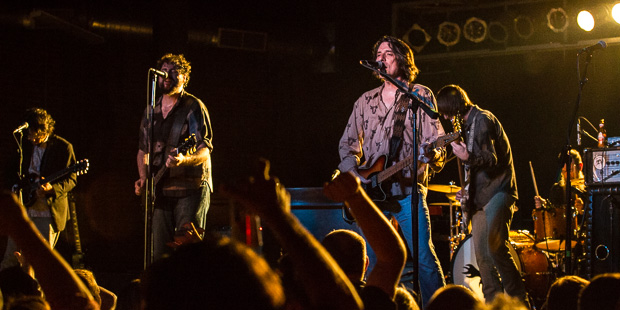 Drive-By Truckers. Photo by Shawn Jackson.
Drive-By Truckers & T. Hardy Morris
Cannery Ballroom, Nashville, TN
Nov 10, 2013
Review and Photos by Shawn Jackson of Sundel Perry Photography
With the flood of formulaic country rock bullshit we've been experiencing these days, it's refreshing to see bands who can straddle the intersection of rock and country in ways that are still stimulating. We were fortunate enough to get two such acts last week at the Cannery Ballroom when the Drive-By Truckers and T. Hardy Morris (of Dead Confederate and Diamond Rugs) braved the Tennessee-Georgia border and made their way to Nashville.
Rather than draw the lines between country rock, southern rock, Americana, or alternative country, I'll suffice it to say these acts draw from a broad range of influences to make music that lures in music fans from far and wide. Read on for more as well as some photos I snapped at the show.
I missed T. Hardy Morris' show in the deluge of talent that is the Americana Music Festival, but was fortunate to finally discover him when I heard he was opening for the Drive-By Truckers. After a few minutes on Morris' website, I was watching video after video after video. I immediately felt a strong connection to his songwriting and singing styles that bring to mind such greats as Hank Williams and Neil Young. The long, drawn out syllables and emotive melodies evoke the kind of release I haven't felt since the first time I heard The Wood Brothers. This was going to be a good show.
And sure enough, he brought the goods to the Cannery Ballroom that night. To look at him, you'd swear he was fronting a grunge band (which he does, just not on this particular night). Hair in his face, flannel shirt, his whole demeanor takes me back to hanging with my skater friends in the early 90s. But the sound was that unmistakable, sad, slow country that grabs you by the heart, then caresses it with the smooth cry of the pedal steel. I thought I heard a hint of grunge rock every now and then, but I can't be sure it wasn't my eyes telling my ears what to think. Upon listening to his tunes again after the show, I noted that he did have a more grungey sound on the record that he did live. I'll chalk that up to catering to the Nashville crowd.
During the 50-minute break between bands, I chatted with a few fans who had also secured spots near the front of the stage. People had traveled from Missouri, Ohio, and Indiana, and that's just the handful of people that I met.
The Drive-By Truckers took the stage, and the crowd erupted in a frenzy that would hold steady for another two hours. The band's show ranges from slow-tempo country to balls-to-the-wall rock songs, and the Cannery Ballroom was packed with fans dancing and singing along to every word. DBT have all the ingredients it takes to make a great country-rock show: travis picking, slide guitar, organ, a mandocello, energetic jams, solid songs, and they clearly have a great time. In fact, Patterson Hood was taking pulls from a bottle of Patron all night, and although he shares the bulk of the singing duties with Mike Cooley, he is clearly the core of the Drive-By Truckers' power source.
They seem like really cool guys, have some good songs, and are clearly massively talented at what they do. This was their last stop on the current tour, but if you get a chance to catch them next time around, you should.