With red necks and black sleeves, southern punk fans embody that subversive spirit that gave America its first true culture. So what better bands to see in Music City than a bunch of hicks with picks? And what better venue could be had for such melodious hayseeds – A group of ruffians who value elbow grease and fast cars – than the Marathon Music Works? Reverend Horton Heat, Unknown Hinson, and Hillbilly Casino (check more info here) are the equivalent of Jack Daniels, Jim Beam, and George Dickel walking into the same saloon for a three-man shootout.  Keep reading below for our review and some fantastic photos from Shawn Jackson.
Coming in fresh from the blustery, disappointing weather Halloween had given us, Hillbilly Casino took the stage first to unleash a high energy rockabilly performance that lets us know that Billy Idol doesn't have a monopoly on the rebel yell. Experience the same energy by surfing through https://www.onlinecasinogames.com/ which transports the casino to a different level. With an intense stage presence matched only by the power of their musicianship, these Nashville locals can always be relied upon to bring a tight show to a crowd. They'll do it anywhere, from Muddy Roots Music Festival to the diviest bar in town. They ended their set on a hell of a note, almost asking for an encore had the bill not been so tightly packed…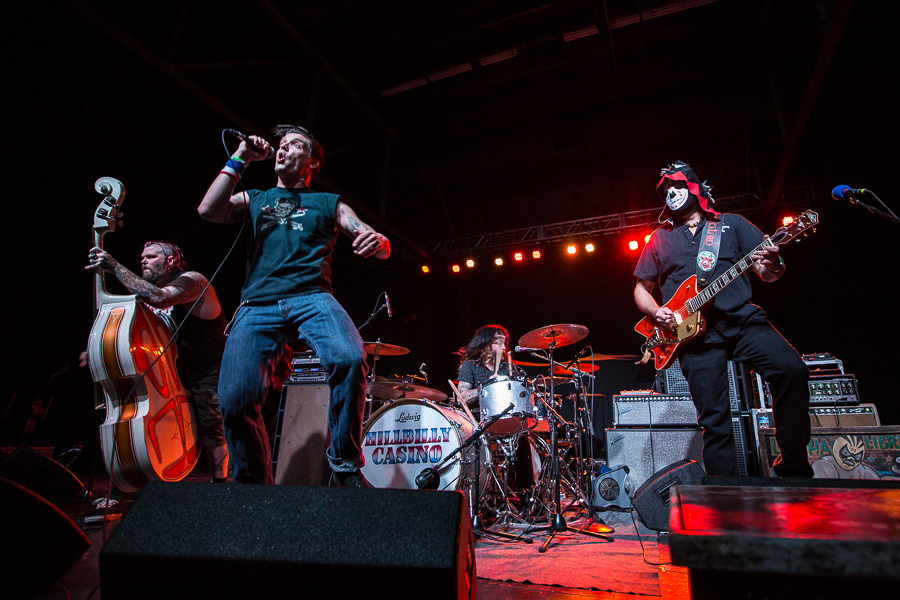 A quick break to hit the bathroom, and the stage was set for a certain black-suited, ribbon-tie wearing vampire. Unknown Hinson, known for voicing a certain squid on Cartoon Network, casually announces another season of "Squidbillies" midway through one of the coolest shows I've ever seen. Singing with a mega-twang that brilliantly caricatures country-music with a weird-west flair. It's dangerously easy to get caught up in the world of Hinson, as almost everyone in the crowd knew the lyrics. There's a new sound taking the world by storm called it's the Unknown Hinson beat.
Seriously, this is a fantastic band that warps the perceptions of a good time with its own warped sense of humor. It's a world where the womerns and hard likker are as plentiful as laughs, with a frontman who can play a git-tar like you wouldn't believe.
Another quick bathroom break, and we're ready for the reason why we're all here: The Reverend Horton Heat. Reigning it all in with his famous brand of country-fed punkabilly. His performance, bearing all the calm intensity of an Al Pacino performance, remains an anchor of cool as the sea of the crowd goes nuts. He's a hillbilly Zen master, and whether he's ripping out some tasty licks with one finger or standing on the bass upright, this guy just doesn't care about anything but giving the crowd what they want. His voice goes from a smooth swing that matches the band to rough, Texas gravel we've all come to love.
This was probably one of the most fitting lineups that I've seen in Music City. Let's do it again sometime gentlemen. Awesome photography courtesy of Shawn Jackson of Sundel Perry.