CHRIS ISAAK
w/ Sam Lewis & Nick Isaak
War Memorial Auditorium; Nashville, TN
September 8, 2013
Photos by Shawn Jackson.
Rockabilly crooner Chris Isaak melted hearts at War Memorial Auditorium last week, accompanied by his fantastic band, along with openers Nick Isaak & local songwriter Sam Lewis, whose all-star accompaniment included famed guitarist Kenny Vaughan  (Lucinda Williams, Rodney Crowell, Marty Stuart) and bassist Dave Jacques (John Prine). Chris proved he was ever the entertainer, charming the crowd as he sailed through a set that stretched well over two hours.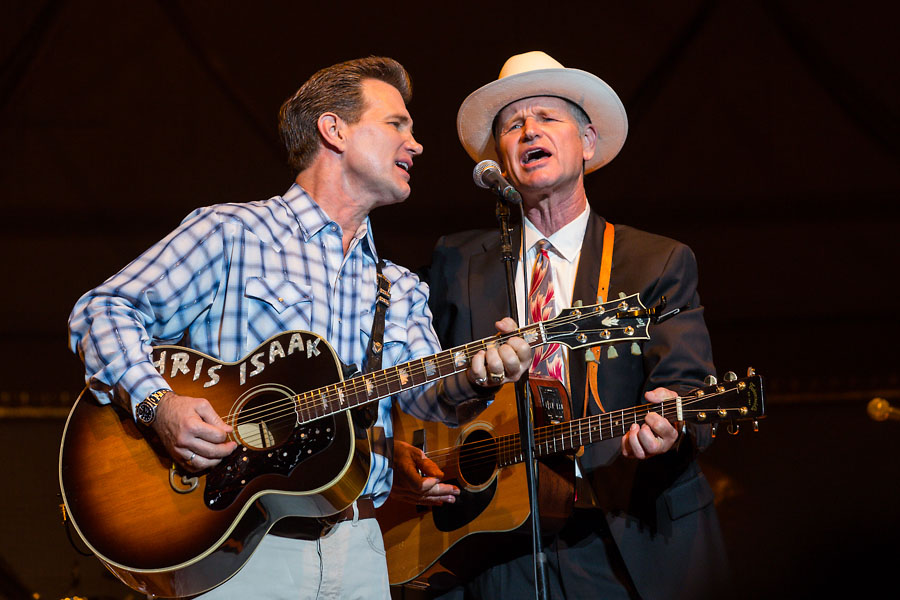 Chris & Nick Isaak
The night began promptly at 7pm with an acoustic set from Chris's older brother Nick Isaak. A few songs in, the younger Isaak came out to lend his vocal talents to the mix, but still gave his brother plenty of time to shine in the spotlight. It was truly a treat to watch the two brothers connect on a musical level which felt more like an intimate performance that one would see at a family gathering.
Sam Lewis
Next up was Nashville-based songwriter Sam Lewis, whose smooth vocals echoed the stylings of James Taylor combined with the river/roots rock style of Chris Robinson. The crowd was ecstatic as guitarist Kenny Vaughan walked onstage, though Vaughan kept his playing simple and tasteful during the set in order to best showcase Sam's songs.  During the last song of the set, Vaughan let loose on guitar, eliciting wild applause from the captivated crowd. If you get a chance to see this fellow play with his trio (The Kenny Vaughan Trio), you've got to do it. You might find Kenny at 12 South Taproom, or even downtown at Robert's Western World. Check out his Facebook to stay up to date on his upcoming shows. Sam Lewis has multiple local shows coming up as well, and you can scroll down to the end of the review for details. 
Kenny Vaughan with Sam Lewis
Chris Isaak
Chris Isaak literally sang his way through the crowd at War Memorial during the course of the evening, and even gave away a guitar to one lucky female fan, who – much to my dismay – was not me. Isaak enchanted the crowd, and kept the set feeling current while covering rockabilly greats like Jerry Lee Lewis and Elvis Presley. During the set, Isaak proved that he's far more than just a singer of covers, and tugged at our hearts with self-written songs like "You Don't Cry Like I Do." The overall feeling of the concert never got too heavy, though, as midway through the show Isaak invited the crowd to get closer and to dance near the stage. After that point, I was dodging women who screamed and held their arms up in the air if Chris glanced their way. Oh wait… that was me.
Set highlights included Chris' incredible cover of James Brown's "I'll Go Crazy," and bassist Rowland Salley's acoustic performance of his own song "Killing the Blues," which was famously cut by Alison Krauss & Robert Plant on their 2007 Grammy-award-winning album Raising Sand.
After an impressive set comprised of over 20 songs, the crowd buzzed as Chris made a quick costume change to a truly incredible mirrored suit designed by renowned custom tailor Jaime Castaneda. Castaneda was formerly head tailor for Nashville-based designer Manuel Cuervas, and has created wardrobe greats for artists including Bob Dylan, Dwight Yoakam, Marty Stuart, Porter Wagoner, ZZ Top, and Buck Owens.
Since Chris & his band just wrapped up this leg of their tour, they may not be back to Nashville for a bit. However, opener Sam Lewis has a busy show schedule ahead of him, including several Nashville dates.
Sept. 18 – Loveless Barn w/ Malcolm Holcombe & Sara Jean Kelly. 7pm. Solo performance. General admission is $10, VIP is $35, and tickets are available online here or at the door. All ages.
Sept. 20 – The Green Room (521 Gallatin Ave #4) w/ Derek Hoke & the Smoking Flowers. 7pm. Free. Free beer & BYOB. Ages 21+.
Oct. 7 – High Watt w/ honeyhoney & Lera Lynn. 7pm doors/8pm show. Full band. Tickets are $10 & are available here. Ages 18+.
—