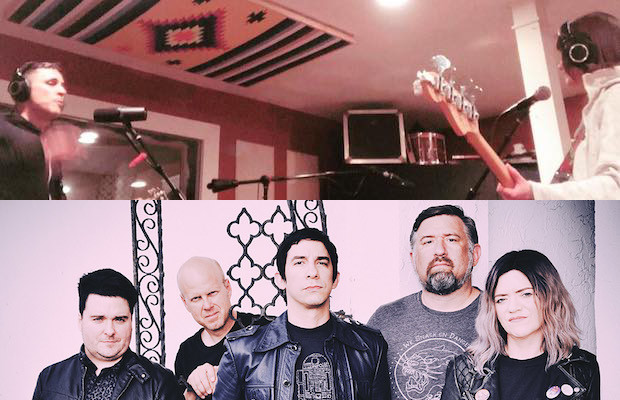 Unless you were particularly dialed into the early '00s punk, emo, and indie scene, and/or you were a teenager or twenty-something in South Florida early last decade, you could be forgiven for not remembering The Remedy Session. Hailing from Ft. Lauderdale, the trio, who harbored a sound reminiscent of peers at the time like The Anniversary, Further Seems Forever, and Hey Mercedes, but also called back to influences like Jawbox, Fugazi, and Braid, released their one and only eponymous LP in 2002, and broke up sometime thereafter, largely becoming relegated as a footnote in emo history (despite some of their peers of the era, especially those that skewed more pop punk, managing to break through to broader mainstream success).
Anchored by singer/guitarist Chris Polito and bassist and vocalist Lori Marsh (Marsh's husband Mike, best known as the longtime drummer for fellow Floridians Dashboard Confessional and, now, The Avett Brothers, replaced original drummer Alex Osuna somewhere along the line), the band seemingly started getting nostalgic a few years ago, and plotted their first reunion in early 2016 for a one-off Florida show, even teasing studio time for new demos later that summer. News since has been slow, but in the fall of 2017 the band played Nashville (where the Marshes reside) for the first time in over a decade, at Springwater Supper Club, around the same time revealing intentions to release a new EP (which has yet to materialize).
Since late last year, after another period of quiet, The Remedy Session have been their most active since the early days, announcing shows in Miami, Knoxville, and, once again, Nashville, with a return to Springwater set to take place tonight, March 3, along with a new supergroup of fellow Floridians, The Darling Fire, and Cleveland's The Whiskey Hollow.
Though so new we can't even find any of their music online (expect a J. Robbins produced debut album out this summer), The Darling Fire's pedigree reads like a who's who of South Florida indie and emo, boasting Jolie Lindholm (The Rocking Horse Winner, Dashboard Confessional) on vocals/guitar, Jeronimo Gomez (Poison The Well, The Rocking Horse Winner, As Friends Rust) on guitar, Steven Kleisath (Further Seems Forever, Shai Hulud, Useless Things, Strongarm) on drums, Gregg More (No Fraud, Slap of Reality, Pull) on bass, and Matthew Short (Jasperwal, D_Composure, Rival Science) on guitar. Longtime friends of The Remedy Session, everything about this band has our interest insanely piqued, and we'll be eagerly anticipating their record. If you show up early, alt/Americana rockers The Whiskey Hollow are also perfectly suited to get things going!
The Remedy Session, The Darling Fire, and The Whiskey Hollow will perform tonight, March 3 at Springwater Supper Club. The show is 21+, begins at 9 p.m., and while we're unclear on the cover, it shouldn't be more than a few bucks at the door.