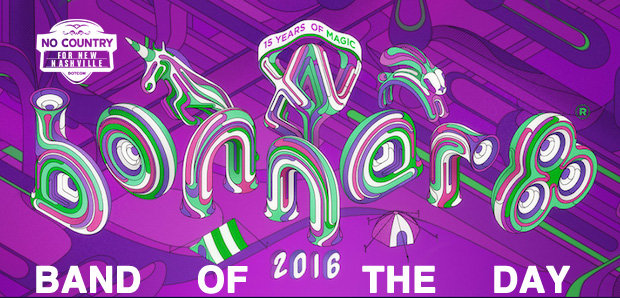 Bonnaroo Artist | Luke Bell
Bonnaroo History | Newbie
Stage & Time | Saturday | Who Stage | 7:45 p.m.
As we've been doing for the past several years now, we're making it our mission to help you get acquainted with as many bands as we can from Bonnaroo's impressive 2016 lineup. In addition to the main stage acts, we also want to be sure to give the Club Stage bands some love, so, for the remainder of our coverage, we'll be doubling up with a second daily spotlight. They might be the smallest artists on Bonnaroo's bill, but the Club Stage boasts some of the best and most exciting up and coming acts around. As with our main stage previews, we'll start from the bottom and work our way up. Keep reading for your Bonnaroo Club Stage Band of the Day…
LEARN
In a town full of hopeful honky tonk troubadours, Luke Bell is truly one of a kind. He began his love for country music during his youth in Wyoming, where he spent his summers on his grandparents' ranch, listening to old cassettes of modern-era legends like Randy Travis. After realizing life at University of Wyoming just wasn't for him, he dropped out and moved to Austin with the hopes of pursing music full time.
He spent two years performing at some of the cities' best dives, like the much-beloved Hole in the Wall, then hopped to New Orleans and back to Wyoming before making the move to Tennessee. Since then, he's become a big part of the community of musicians putting a new spin on traditional country. Thanks to his exposure to so many musical cities, he's able to flawlessly mix the genres of Bakersfield, Texas red dirt and old school outlaw with his own unique flair, which even includes a little bit of yodeling. He's gearing up to release his self-titled LP on June 17 via Thirty Tigers, and has nabbed slots on both Stagecoach and Bonnaroo this year. It's a big step from his usual slot with the Ice-Cold Pickers at Santa's Pub, which is the backdrop of the video for his latest single, "Sometimes." With the success of artists like Margo Price opening the floodgates for some of Nashville's other traditionalist country singers, Bell is finally getting his much deserved time in the spotlight. Make sure you practice your two-step before checking out his set at the Who Stage next month.
LISTEN | "All Blue"
WATCH | "Sometimes" (Official Video)
CONNECT
More from Luke Bell | Site | Facebook | Twitter | Spotify
More from Bonnaroo | Tickets | Lineup | Site | Facebook | Twitter