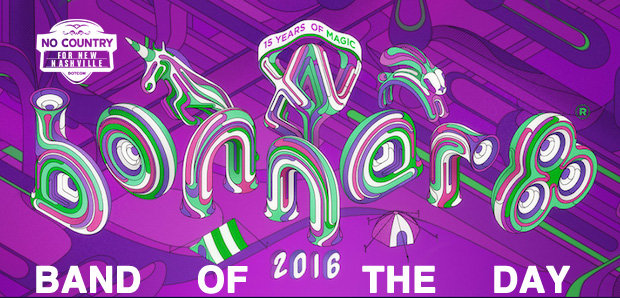 Bonnaroo Artist | GoldLink
Bonnaroo History | Newbie
Stage & Time | Thursday | The Other Tent | 12:15 a.m.
As we've been doing for the past several years now, we're making it our mission to help you get acquainted with as many bands as we can from Bonnaroo's impressive 2016 lineup.  We'll start from the bottom and work our way up, paying special attention to the smaller and lesser known acts on this year's bill. Keep reading for your Bonnaroo Band of the Day…
LEARN
DMV based rapper (the acronym refers to District of Columbia, Maryland, Virginia, rather than the dreaded driver's license office) GoldLink has taken an interesting path with even more interesting music.  Born D'Anthony Carlos, the 21 year old emcee grew up in a setting similar to many rappers on the scene today.  Poverty, an absent father, dealing drugs, incarceration, and troubled friends in and out of prison were the norms for GoldLink, but how he chose to deal with those hardships is what sets him apart from his contemporaries. Musically, as a young rapper, he chose to challenge himself by rapping over down-tempo electronic beats from producers like Ta-ku, Kaytranda, and Louis Lastic to create dreamy, danceable tracks that are self-described as "future bounce" or "dream rap."  Philosophically, GoldLink has challenged himself to send a more socially consciousness message.
Wise beyond his years, GoldLink has said that he wants to send a different message than he received growing up thinking that the lyrics in hip hop songs were true stories in life.  His experiences of urban street life were, as they are for many, far more negative than they are portrayed in most hip hop songs.  His days of dealing drugs landed him in prison, and dreamt glamorous lifestyles of nice cars, money, and fame were just that, dreams.  He first garnered acclaim with his 2014 mixtape, The God Complex, and has continued to fine tune his social message in his 2015 release, And After That, We Didn't Talk, while perfecting his blend of R&B and classic hip hop breaks.  Now getting calls from super producers like Rick Rubin, the future appears bright for GoldLink, and this is one artist that should definitely be on your radar.  Check out his the single "Spectrum," and watch the socially conscious video for "When I Die" below, and give some consideration to this rising star when you are setting up your Roo schedules this summer.
 LISTEN | "Spectrum"
WATCH | "When I Die" (Official Video)
CONNECT
More from GoldLink | Site | Facebook | Twitter | Spotify 
More from Bonnaroo | Tickets | Lineup | Site | Facebook | Twitter