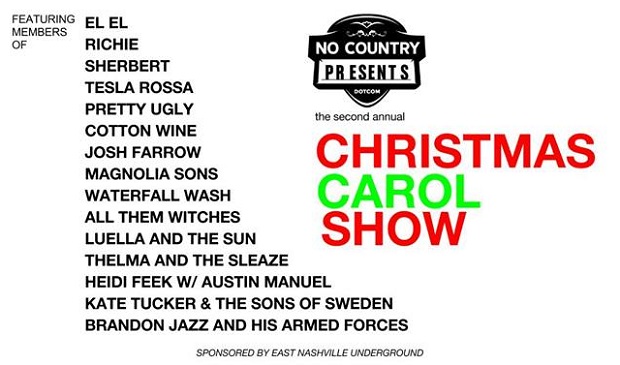 Twas a week before Christmas, but by all accounts,
Not a soul was rejoicing, except in the South.
Where musicians were stringing guitars with great care,
Preparing to carol at to-night's affair.
No Country was busy, all up to their heads,
Printing off lyrics, and scouring for threads'.
So you can all sing, and you can all clap,
And win some free drinks, donning old Christmas crap.
El El will be there, with synth-poppy clatter,
And Tesla Rossa — oh what brains they will splatter.
Don't forget Pretty Ugly what a name that band has,
Just like that old Brandon — his forces of jazz.
Luella is hot, much hotter than snow,
Like Sherbert and Richie, and ol' Josh Farrow.
All Them Witches will rock, and bust up your ears,
But no need to fear — Cotton Wine will be here.
And Ms. Heidi Feek — she's getting big quick,
Like  Thelma and friends, boy they lay it on thick.
And Waterfall Wash, but wait! That's not all!
There's Magnolia Sons, most of soulful of all.