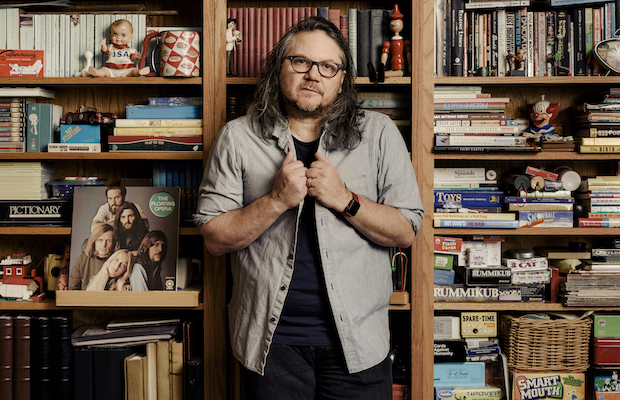 Best known for fronting famed Chicago alt rock outfit Wilco for the past 25 years (and, before that, his stint in Uncle Tupelo), Jeff Tweedy is, without a doubt, one of the most celebrated and accomplished musicians in the modern alternative, folk, and alt country scene. Though, over the years, Jeff's been no stranger to collaboration, side projects, and non-musical creative endeavors, only in recent years has he experimented with a solo career. Following side project called Tweedy, a duo with his son Spencer, with whom he released a full-length in 2014, the elder Tweedy took it upon himself to release an album of reimagined tunes by Wilco and other side projects, called Together at Last, which arrived in 2017, a year after Wilco's most recent LP, Schmilco. Then, last year, shortly after the release of his memoir, Let's Go (So We Can Get Back), Jeff dropped his first-ever solo release comprised of all-new material, Warm, which he recorded at legendary Chicago studio The Loft (a companion record, Warmer, is notably set to drop next month for Record Store Day).
In celebration of Warm, Tweedy is currently in the midst of a tour of theaters around the nation, and is set to play TPAC's James K. Polk Theater next Wednesday, March 20 at 7:30 p.m. While it's been on sale for awhile, a handful of tickets are still available right here, if you're only now hearing about it (our bad for missing out a post at the announcement). If you can't make it in the evening, however, or you can't get enough of the esteemed musician, Grimey's just announced a special in-store appearance earlier that same day, set to take place at the record store's new east side home at noon.
Per usual, the performance is all ages, but, as is typical with their more in-demand in-stores, entry is only guaranteed if you can secure a wristband, which Grimey's will be handing out in-person with purchases of either Warm (on CD or vinyl) or Tweedy's memoir, beginning tomorrow, Friday, March 15, when the shop opens at 10 a.m. If any wristbands remain by noon on Sunday (highly unlikely, in our experience), they'll become available with online orders. If, inexplicably, they don't sell out, the shop will, of course, let folks in for free the day of, but with priority given to wristband holders, we wouldn't count on that route.
So there you have it: two chances to see Wilco's Jeff Tweedy next week, both very special and intimate performances (with TPAC's, of course, the only full-length show). Watch Jeff's recent video for "Some Birds" below, and stream Warm on your platform of choice now!
More from Jeff Tweedy | Twitter