The 2017 season of Live on the Green wraps up this weekend with a three-day finale running the nights of Thursday, Aug. 31 and Friday, Sept. 1 and concluding with an all-day lineup on Saturday, Sept. 2, all expanded to two stages for double the incredible acts. [UPDATE: Due to inclement weather, Thursday night has been canceled, and Friday's performances have been rescheduled for Sunday, Sept. 3, all one one stage. Saturday, Sept. 2 remains unchanged.] This season has been one for the books already, boasting spectacular lineups of St. Paul & The Broken Bones, Michael Franti & Spearhead, and Arkells to kick it off, Local Natives, Real Estate, and Minus The Bear in week two, and then one of the biggest events we've seen with last week's stacked offering of Spoon, Portugal. The Man, and The Weeks. Head below to find out more about the final two days, featuring a massive and impressive lineup of  Sheryl Crow, Future Islands, Drew Holcomb and The Neighbors, The Lone Bellow, LP, SHEL, The Record Company, The Delta Saints, Bahamas, Goodbye June, Elliot Root, Ron Gallo, The Voodoo Fix, The Whistles & The Bells, Paper Route, Cordovas, Guthrie Brown, and Kids Fest with Mr. Steve
Per usual, LOTG is free and all ages. Saturday will be a full day affair starting at 1 p.m, and the newly rescheduled Sunday (from Friday) performances begin at 1:45 p.m. Gates open each day one hour before the music begins, and there will be plenty of food and beer vendors on site to meet your needs. Parking is just $5 at the Public Square Park Garage below the festival site and at Nissan E and F lots across the Woodland St Bridge, and various other garages and street parking options are available on the surrounding blocks. Finally, if you're looking to up the ante on your LOTG experience, a limited number of VIP tickets and backstage passes are available for purchase, however, they generally sell out in advance. Find out more about this week's installment below, and find out more about the entire season on Live on the Green's site.
UPDATE: VIP tickets to Friday, Sept. 1 will be honored Sunday, Sept. 3 and VIP tickets to Thursday, Aug. 31 will be honored either Saturday or Sunday. VIP ticket holders unable to attend a rescheduled date may receive a refund. All current info and forthcoming Sunday schedule times and states will be on the festival's site.
THURSDAY
Due to inclement weather, Thursday's performances were canceled. VIP tickets will be honored Saturday or Sunday, or refunded for those unable to attend.
_
FRIDAY
Due to inclement weather, all of Friday's performances except for Big Head Todd were rescheduled for Sunday, set to start at an earlier time and now all on the main stage. VIP tickets for Friday will be honored Sunday, and refunds will be offered for those unable to attend. More info below.
_
SATURDAY
FUTURE ISLANDS
Main Stage | 9:30pm
Hailing from Baltimore, synthpop outfit Future Islands have been going strong now for a decade, and, after years of increasing cult success, have been widely buzzed about since 2014 fourth album Singles, and lauded most recent effort The Far Field. After the more jam and rootsy oriented Jon Butler and pop/singer-songwriter legacy of Sheryl Crow, they're a perfect choice to flex LOTG's range with more trendy, modern, and accessible rock and pop, making for a well-balanced weekend offering something for nearly everyone. While it'd be cool to close the season with a local, these guys are more than up to the task, and a chance to see them for free, at the end of a day jam-packed with great artists, is a pretty amazing opportunity. [PO]
ELLIOT ROOT
615 Stage | 8:45pm
Fresh off the release of their debut record, Elliot Root will be celebrating by returning to the scene where we were first introduced to them as a performer at Live on the Green in 2015.  The new record, Conjure, sees the band finally grasping their sound, as you can hear in the melodic and soulful track "10,000" below.  It's looking like a big year for Elliot Root, and their performance on the 615 stage gives you the perfect chance to get to know them in an intimate setting. [MH]
THE LONE BELLOW
Main Stage | 8:00pm
Formed in 2010 by frontman Zach Williams, The Lone Bellow hit the ground running, performing their first-ever proper show in support of The Civil Wars. The group's songs are deeply personal, initially borne from a tragedy and subsequent miracle Williams underwent with his wife, and their sound is eclectic, channeling strong, soaring harmonies and a healthy balance of acoustic and electric instruments. Following their strong, self-titled full-length, the Americana trio found further acclaim and prominently toured the world around 2014's And Then Came the Morning, and, now Nashville residents after formerly residing in Brooklyn, they'll finally release their third LP, Walk Into a Storm, on Sept. 15, making this a perfect time to see them. [PO]
THE VOODOO FIX
615 Stage | 7:15pm
The Voodoo Fix have certainly made waves since they landed in Nashville.  We first caught wind of them with 2016's In Deep, which brewed up a stew of rock, rock, blues, and punk.  Apparently, the rest of Nashville got the message as they cruised a victory in Lightning 100's Music City Mayhem, and the timing couldn't have been better, as their LOTG debut coincides nicely with their recently released Back For More.  Take a listen to the title track below to get a taste of what these guys are all about. [MH]
LP
Main Stage | 6:30pm
Laura Pergolizzi has been in the music industry since the early 2000s, and first made a name penning songs for the likes of Rhianna, Christina Aguilera, Cher, and more.  She began recording under the moniker LP around that time, and finally found undeniable mainstream solo success with her 2014 release Forever For Now, including the single "Into the Wild".  The stars have remained aligned for the powerful vocalist and intensely talented songwriter with the release of this year's follow up Lost On You.  Check out the title track below, and buckle in for the singalong on Saturday. [MH]
PAPER ROUTE
615 Stage | 5:45pm
After a long and occasionally difficult process leading up to the release of their third album, last year's Real Emotion, it seems like local indie rockers Paper Route are back to smooth sailing. The group have released a handful of well-received singles and videos, they've been touring frequently, and their latest was met with critical acclaim; perhaps a bit ahead of the curve, the band's synth-laced, experimental, and poppy style of indie rock is finally perfectly at home in today's musical landscape, and the more than decade they've spent as a unit has made them a formidable live force. One of our favorite local acts, this appearance at LOTG is bound to be a weekend highlight. [PO]
THE RECORD COMPANY
Main Stage | 5:00pm
Dipping into blues, punk, and rock genres, The Record Company are more retro than millenial, more blues than rock, more punk than blues, more rock than punk, and, frankly, a breath of fresh air.  We heard tracks like "Rita Mae Gone" and "Off the Ground" last year as they warmed up for Kurt Vile and Dawes at LOTG, and here's to hoping their Saturday evening slot will give them more of a deserved crowd that they could muster early on Thursday last year.  If you aren't hip to the The Record Company, dig in below, and definitely don't miss out on their tone-true live set. [MH]
CORDOVAS
615 Stage | 4:15pm
East Nashville based twangy southern rock quartet the Cordovas have been on our radar for a while, and it's exciting to hear they are gearing up to release their first new music since their self-titled debut in 2012.  As you can hear in the track "I'm The One You Left Behind" below, the new record is rife with delicate harmonies, pedal steel twang, and general desire to head out on the open road. [MH]
THE DELTA SAINTS
Main Stage | 3:30pm
It's been almost a decade of music history for The Delta Saints in Nashville.  We first caught wind of them with the release of 2013's Death Letter Jubilee, and found their bluesy indie rock laden shows to be out of this world.  They returned earlier this year with a new LP, Monte Vista, which sees the band clean up their bluesy style with a little more pop influence, but the effect is just as powerful.  You can check out the track "California" below to get a taste. [MH]
GUTHRIE BROWN
615 Stage | 3:00pm
Hailing from "old Montana," gifted young songwriter Guthrie Brown made his way to Nashville at 17 to pursue a career in music, drumming up attention with his self-titled debut EP. After a followup, Spirit of the Elk, Brown put together a band dubbed "The Family Tree" (a moniker he's since seemingly dropped), and swiftly began bagging impressive opening spots, festival slots, and more. When we were first turned on to Brown, his singer-songwriter style drew heavily from a background in folk and Americana, though still retained a rock edge. More recently, the talented up and comer has landed a major publishing deal, and worked with Grammy Award winner producer Jacquire King on his latest EP, Natural, which expands his eclectic sound to include broader pop accessibility and a contemporary alt/indie rock flair. If you haven't yet jumped on the Guthrie Brown bandwagon, there's never been a better time! [PO]
BAHAMAS
Main Stage | 2:15pm
A Canadian singer-songwriter with a penchant for folk, who performs live under an assumed moniker, Bahamas was born Afie Jurvanen. The Juno nominated artist and former Feist collaborator has, in recent years, become a frequent performer in Music City as well as a festival favorite, and his third and best LP to date, Bahamas Is Afie, was easily one of our favorite releases of 2014. Personal and introspective, Bahamas' music perfectly compliments the day's varied lineup, and has earned Jurvanen spots supporting the likes of Wilco, Robert Plant, City and Colour, and Jack Johnson. Needless to say, you don't want to miss his main stages opening set, especially with imminent new music on the way! [PO]
KIDS FEST WITH MR. STEVE, THE MUSIC MAN
615 Stage | 1:00pm
One of the most hysterical human beings in the history of human beings, Mr. Steve, The Music Man has become an institution in the Nashville music scene.  After bouncing around the late night world of typical musicians, Steve Lee took a job teaching music to kids, and was instantly hooked.  He now hosts a kid friendly radio show on Lightning 100, and has become a staple at Live on the Green with his clever, educational, and exceptionally well done songs for kids. [MH]

_
FRIDAY
SHERYL CROW
Main Stage | 8:30pm
If you don't know who Sheryl Crow is you should probably just stop reading this.  She burst onto the scene in 1993 with her debut Tuesday Night Music Club and the smash single, "All I Want To Do," continued to be a clinic for how to release catch as hell pop influenced rock tracks for the rest of the decade and into the early 00s.  As artists are ought to do when living in Nashville, Crow took her music into a more country direction as the last decade came to an end, but she has returned this year with Be Myself, which was clearly a message to herself to return to her roots.  You can hear where she is going with it in the new single "Halfway There" below.  [MH]
DREW HOLCOMB AND THE NEIGHBORS
Main Stage | 6:45pm

Drew Holcomb & The Neighbors have certainly seen their star rise beyond the Americana circles in the past few years. Their 2015 release, Medicine, took the band around the world touring in support of other alt-Americana acts like Los Lobos, The Avett Brothers, and more.  They gloriously returned home to perform a sold out show at The Ryman (which was released as a live album in 2016), and followed that up with this year's Souvenir, which has propelled the band to their highest charting position to date.  The road is bright for Drew Holcomb and company, and it's time you get familiar with their soothing tunes on Friday night. [MH]
SHEL
Main Stage | 5:30pm

We don't write enough about our love for Colorado bred, Nashville based folk pop sister group SHEL (an acronym for their names, Sarah, Hannah, Eva, and Liza). Since their 2012 self-titled debut, the band have been winning acclaim for their knack for penning accessible, smart, and harmony laden tunes, employing eclectic instrumentation, and frequently subverting expectations in doing things like putting their own spin on Metallica. Last year's Just Crazy Enough further honed the group's sound, and their stellar live show packs a polish and refinement that's hard to match short of a livelong familial bond. We're thrilled to see them on the main stage, and urge you to arrive early! [PO]
GOODBYE JUNE
Main Stage | 4:15pm

Hard hitting rockers Goodbye June have been banging around East Nashville since 2009, and have been on our radar since the release of a smattering of singles that their first release.  A lot has changed since the band of cousins first started making waves in the local music scene, while crafting their music to deal with a death in the family.  They've since seen a number of high end placements, landed a spot of Interscope Records' roster, and repackaged their old tracks with a handful of new tunes for their label debut Magic Valley, which dropped earlier this year. [MH]
RON GALLO
Main Stage | 3pm

Philadelphia transplant Ron Gallo has been an obsession of ours for a couple years now, and dropped one of our absolute favorite local albums of 2017 in his incredible new effort, Heavy Meta. The former Toy Soldiers frontman turned solo garage punk poet and rock icon in the making has shared the stage with the likes of FIDLAR, Twin Peaks, and White Reaper, and as a seminal new fixture in the local rock scene, he brings some much needed edge to this weekend's offerings. Don't sleep on Ron's set! [PO]
THE WHISTLES & THE BELLS
Main Stage | 1:45pm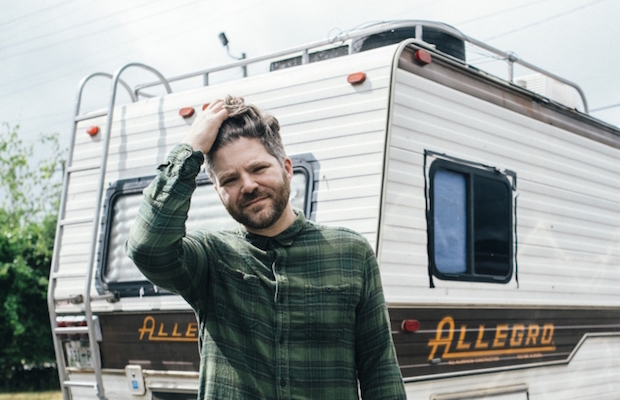 The new musical vehicle, and, by extension, personal journey of former Cadillac Sky frontman and multi-instrumentalist Bryan Simpson, Nashville's The Whistles & The Bells is a project that has piqued our interest from day one. Following their strong, buzzed about self-titled debut in 2014, the group forged a reputation for their engaging and genre-bending shows around town, and earlier this year, after a long wait, Simpson finally emerged with a worthy sophomore effort, Modern Plagues. Combing elements of americana, folk, rock, blues, and more, this project seems primed for an eclectic form like Live on the Green. [PO]

_
More from Live on the Green | Site | Facebook | Twitter | Instagram

[MH] Matt Hall
[PO] Philip Obenschain