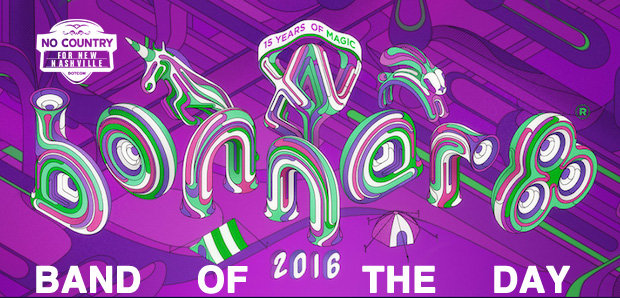 Bonnaroo Artist | Cardiknox
Bonnaroo History | Newbie
Stage & Time | Saturday | New Music On Tap Lounge | 12:30 a.m.
As we've been doing for the past several years now, we're making it our mission to help you get acquainted with as many bands as we can from Bonnaroo's impressive 2016 lineup. In addition to the main stage acts, we also want to be sure to give the Club Stage bands some love, so, for the remainder of our coverage, we'll be doubling up with a second daily spotlight. They might be the smallest artists on Bonnaroo's bill, but the Club Stage boasts some of the best and most exciting up and coming acts around. As with our main stage previews, we'll start from the bottom and work our way up. Keep reading for your Bonnaroo Club Stage Band of the Day…
LEARN
Though they've only been a band since 2013, and just released their debut album, Portrait, earlier this year, buzzworthy indie pop duo Cardiknox are easily one of the most high-profile Club Stage performers of the summer. Made up of Lonnie Angle and Thomas Dutton, the group came together out of the ashes of Dutton's prior project, Forgive Durden, who had an admirable, decade-long brush with success of their own in the emo/indie world. By the end of the band's run, Thomas was the only member left, and began crafting an off-broadway musical based on a final concept album. That's where Angle, a skilled vocalist with a theater background, came in, relocating with Dutton to New York from their native Seattle to help launch the play. Soon after, the pair's focus shifted to new music, and Cardiknox was born.
Combining elements of pop, indie, dance, and electronic music, the band quickly found critical buzz after self-releasing a series of tracks in 2014, soon teaming up with Grammy winning producer John Shanks to begin crafting their debut LP. Warner Bros. soon took notice, and scooped the band up, helping them reach an even larger audience, and land tours with the likes of Carly Rae Jepsen, Bleachers, and Betty Who, in addition to appearances at festivals around the world. Energetic, engaging, lighthearted but still personal, Cardiknox are simply a blast in concert, and a perfect band for summer; their Saturday night set is one worth staying up for!
LISTEN | "Wild Child" 
WATCH | "On My Way" (Official Video)
CONNECT
More from Cardiknox | Site | Facebook | Twitter | Spotify
More from Bonnaroo | Tickets | Lineup | Site | Facebook | Twitter