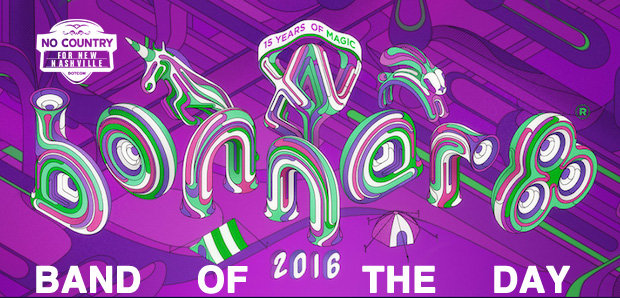 Bonnaroo Artist | DΔWN
Bonnaroo History | Newbie
Stage & Time | Sunday | Who Stage | 8:15 p.m.
As we've been doing for the past several years now, we're making it our mission to help you get acquainted with as many bands as we can from Bonnaroo's impressive 2016 lineup. In addition to the main stage acts, we also want to be sure to give the Club Stage bands some love, so, for the remainder of our coverage, we'll be doubling up with a second daily spotlight. They might be the smallest artists on Bonnaroo's bill, but the Club Stage boasts some of the best and most exciting up and coming acts around. As with our main stage previews, we'll start from the bottom and work our way up. Keep reading for your Bonnaroo Club Stage Band of the Day…
LEARN
Bonnarovians will have a few different choices for their festivities on Sunday, the final night of the festival. They could go see the headlining set from Dead & Company, or they could take a completely different path, avoid the crowds, and see one of the few other performers that will be competing with the main attraction that night. Over on the Who Stage will be DΔWN, a booming New Orleans based singer who is turning heads all over the country. DΔWN (aka Dawn Richard) got her professional start when she auditioned for Making The Band 3 back in 2004. From there she helped form the girl group Danity Kane, and by 2009 she joined forces with Sean "Diddy" Combs and Kalenna Harper to form Diddy-Dirty Money, both receiving significant acclaim and providing her the first taste of success.
Since 2011, prompted by her departure from Bad Boy Records, her solo career has taken off. Richard has set some incredible standards for R&B with her commanding voice and intense stage presence. Now in 2016, she is evolving with the rest of the scene, incorporating a lot of electronic and dancehall textures into her songs. DΔWN uses autotune and intricate bass/snare patterns to create a style that fuses the attitude of M.I.A. with the soul of the modern dancehall scene. If you aren't the type to be immersed in patchouli and lengthy improvisational jams, be sure to wander over to the Who Stage on the last night of the festival to see what the chatter is all about with DΔWN.
LISTEN | "Wake Up" 
WATCH | "Blow" (Official Video)
CONNECT
More from DΔWN | Site | Facebook | Twitter | Spotify
More from Bonnaroo | Tickets | Lineup | Site | Facebook | Twitter