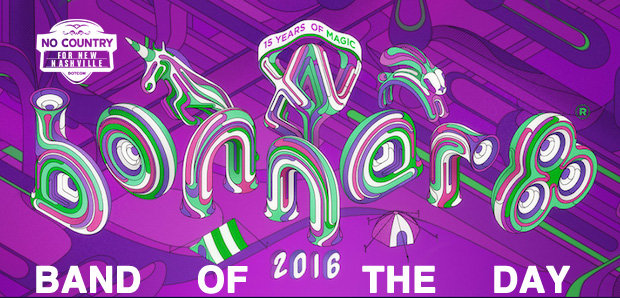 Bonnaroo Artist | Holy White Hounds
Bonnaroo History | Newbie
Stage & Time | Friday | Who Stage | 8:45 p.m.
As we've been doing for the past several years now, we're making it our mission to help you get acquainted with as many bands as we can from Bonnaroo's impressive 2016 lineup. In addition to the main stage acts, we also want to be sure to give the Club Stage bands some love, so, for the remainder of our coverage, we'll be doubling up with a second daily spotlight. They might be the smallest artists on Bonnaroo's bill, but the Club Stage boasts some of the best and most exciting up and coming acts around. As with our main stage previews, we'll start from the bottom and work our way up. Keep reading for your Bonnaroo Club Stage Band of the Day…
LEARN
One never points to Des Moines, Iowa as a hub for new and exciting rock and roll, but Holy White Hounds are out to change that. The quartet's story is the classic tale of small-town teenagers escaping the monotony of home with the power of music. Back in 2005, Brandon Dean (vocals, guitars) and Ambrose Lupercal (bass) began teaming up and writing songs in their parents' basement. During these years the duo met Brandon Darner, a talented producer who really began to respect the band, but it wasn't until after the group finished college that they teamed up with Darner to record their first full-length record Sparkle Sparkle, which dropped earlier this year.
The band has managed to form themselves around a style that draws from some of the best rock and roll of the past decade, and their debut album shows a band that has worked tirelessly to bring their sound to life. The production is flawless, from the distorted riffs in "Switchblade" to the driving beat in "Blind," evoking the sound of some of the biggest heavy hitters of the past decade such as The Strokes and Queens of the Stone Age. Don't be a fool and miss their set because they are sure to rock you all the way back to your tents this year on the farm.
LISTEN | "Oh Mama"
WATCH | "Switchblade" (Official Music Video)
CONNECT
More from Holy White Hounds | Site | Facebook | Twitter | Spotify
More from Bonnaroo | Tickets | Lineup | Site | Facebook | Twitter